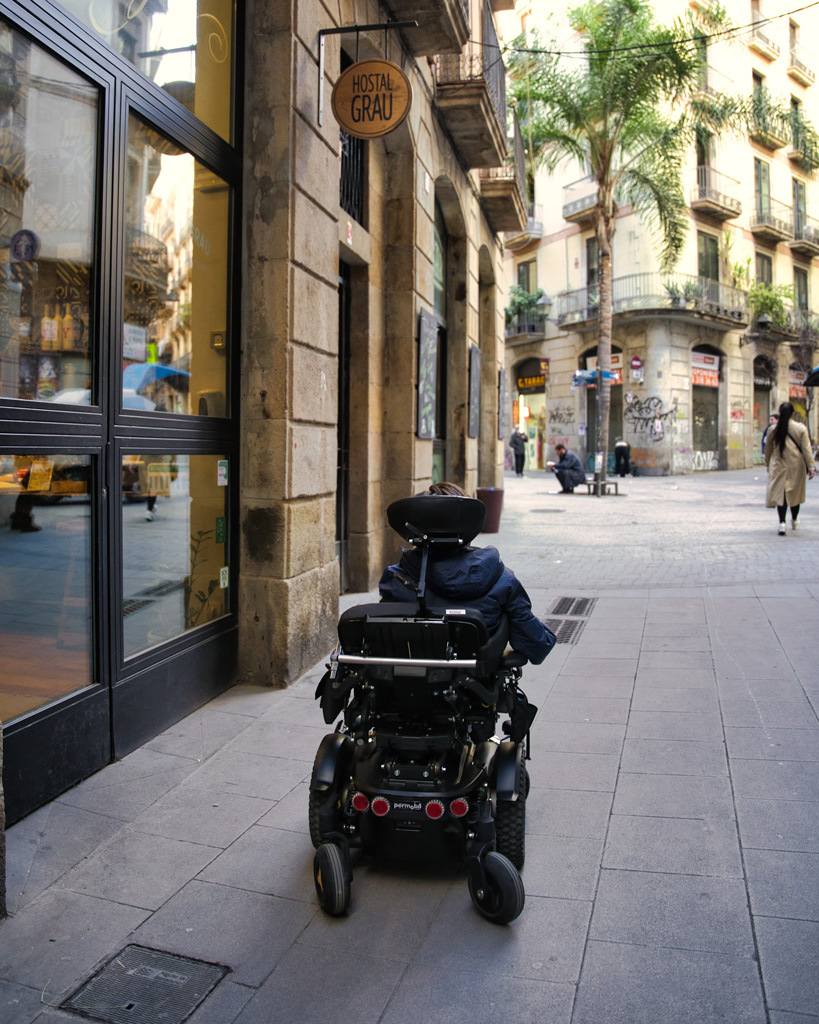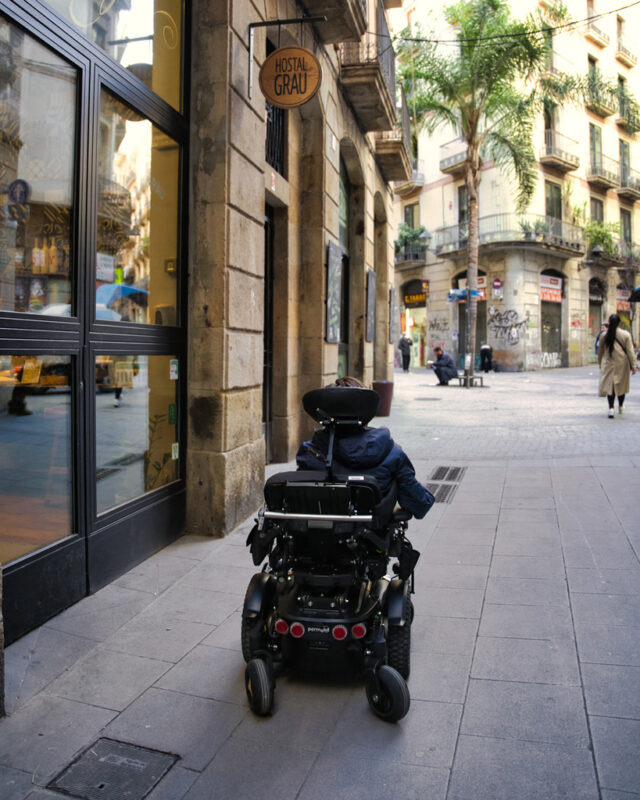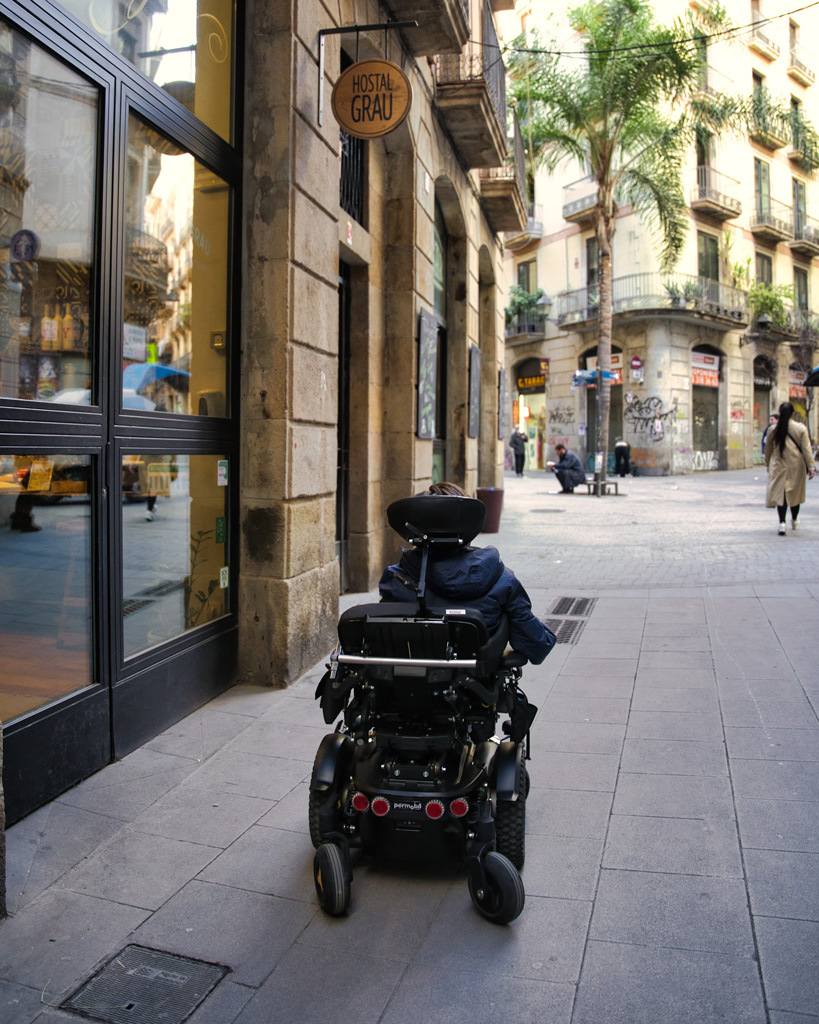 Good accommodation is a basic requirement for a great travel experience
In February 2022, I was in Barcelona for the first time. It's a great city and if you want to read more about my trip, feel free to check it out here. However, Barcelona is slightly different than typical "weekend trip places". In fact, it's impossible to see all the sights of Barcelona in just 1-2 days. The solution is: Either you stay there longer or you visit the city several times. In any case, you will need a suitable hotel and in this blog post you can see, where I stayed during my 4 days in Barcelona.
Since I visit a lot of different places on my travels, I always look for hotels that are as close to the city center as possible. Hostal Grau was therefore the optimal choice for me, because this hotel is located in the "heart of Barcelona". Many sights such as the old town, the Gothic Quarter or the MACBA museum can be reached from here in just a few minutes walk. The famous pedestrian street La Rambla – for me, the most delicious street in Barcelona 🙂 – is also only 300 meters away.
Airport transfer is also super easy in this case. Obviously, there are the usual options like trains, cabs or regular buses. Nevertheless, I recommend you to take the Aerobus. Such light blue shuttle buses provide a cheap and fast transfer (about 35 minutes) from the airport to the city center and back. Just get off at Pl. Catalunya and after another 300 meters you will reach the Hostal Grau. By the way, all aerobuses have an electrically extendable ramp and special space for wheelchair users.
Although as a tourist, you usually don't spend a lot of time in a hotel, the stay is even more enjoyable if the accommodation has something special. In Rotterdam, for example, I slept in the unique cube houses (see Rotterdam Guide), and Hostal Grau also has an interesting concept.
Hostal Grau is an eco hotel, so sustainability and environmental friendliness have a significant role here. Well such words always sound very nice, but what exactly are the hotel operators doing for the environment? In fact, a lot and I'll just mention a few things here:
The interior of the hotel is mainly made of recyclable materials and FSC certified wood furniture (FSC is an international certification system for more sustainable forest management). The rooms are painted with white ecological paint and only ecological products are used for cleaning. In addition, the hotel makes every effort to reduce the waste production to a minimum. As confirmation that these are not just empty promises, Hostal Grau owns the prestigious LEED Gold certification (Leadership in Energy and Environmental Design) for interior design.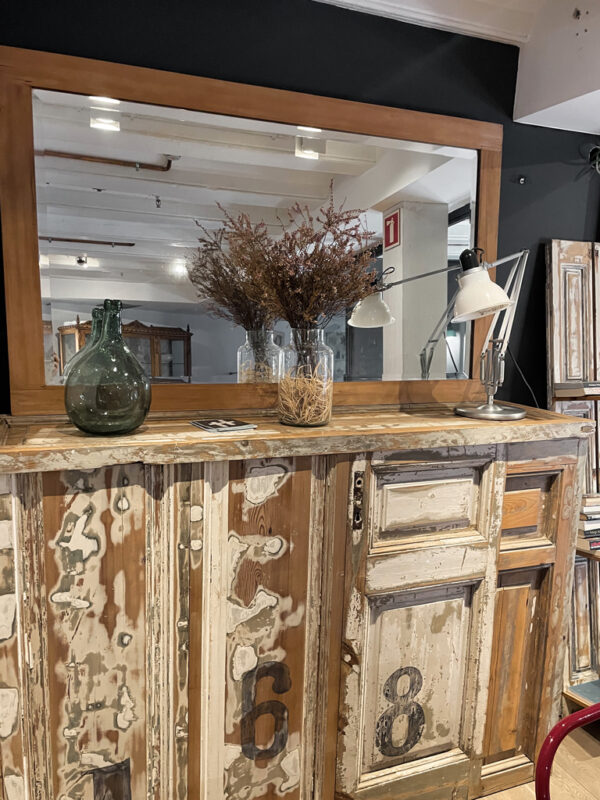 One feature of the hotel is the special wood furniture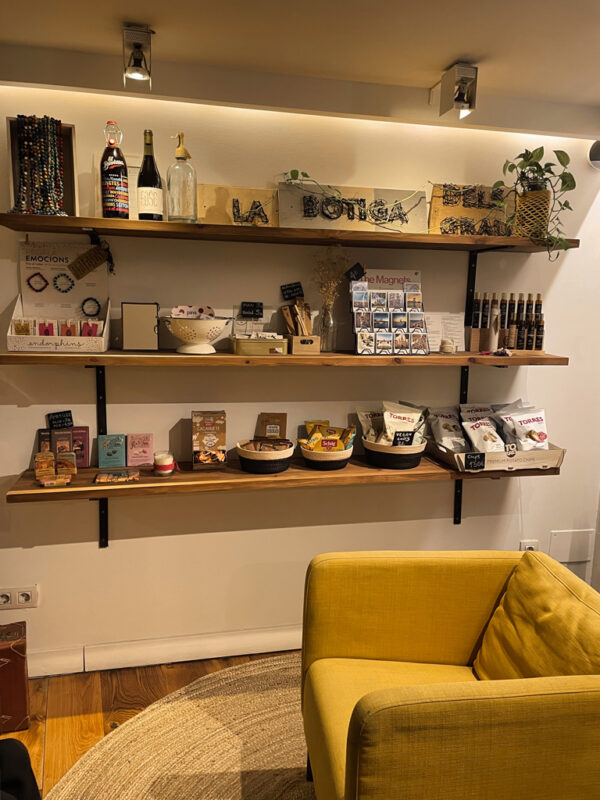 Souvenirs and some snacks in the lobby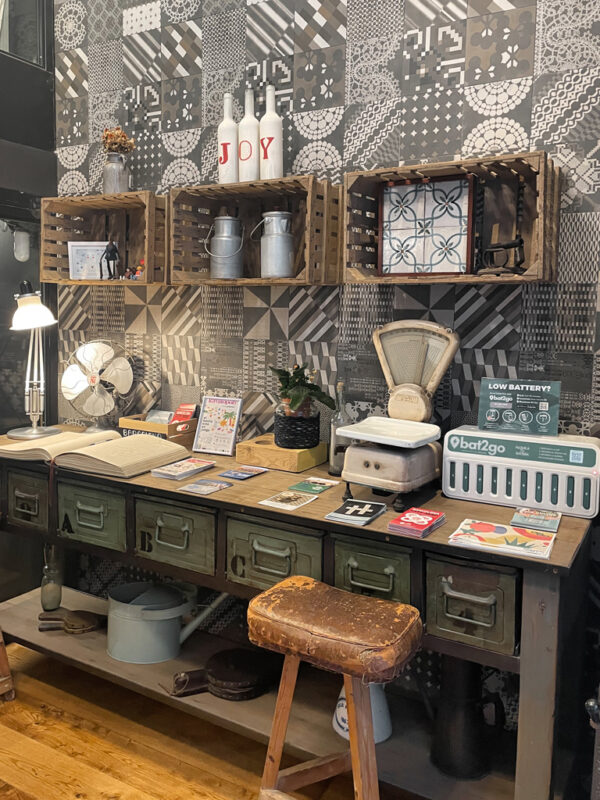 Very unique entrance area
While there is a strong environmental awareness, the well-being of the guests is of course not ignored either. For example, all beds are equipped with comfortable, 100% organic mattresses and if it is still not enough, watch out! Hostal Grau even has its own room fragrances! This may be a small thing, but it shows that the concept of the hotel is thought out to the last detail.
In general, the guests are not supposed to feel like they are in a hotel, but rather like in a cosy little home in the middle of Barcelona. The design is minimalistic, but with some very creative decorations. In the spacious lounge, for example, you'll come across an old sewing machine or a wall, which is decorated with many very old newspaper clippings.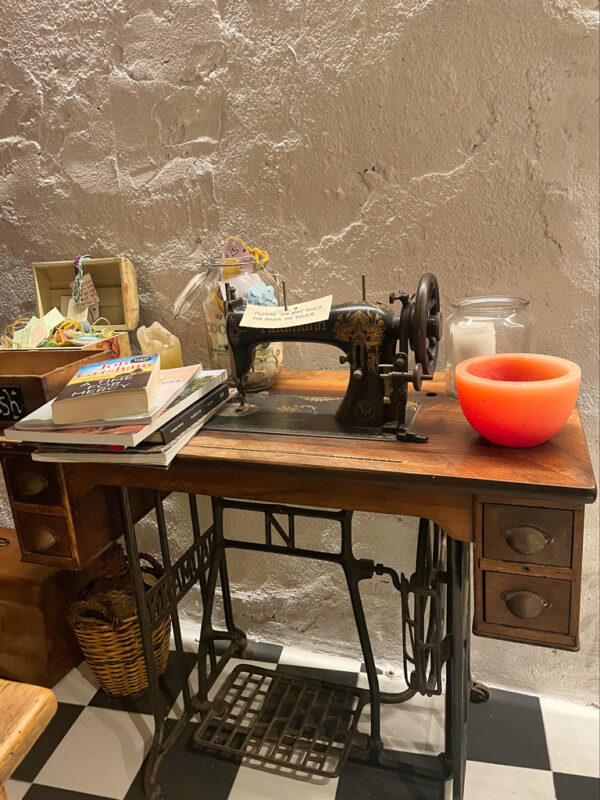 Old things can be great design elements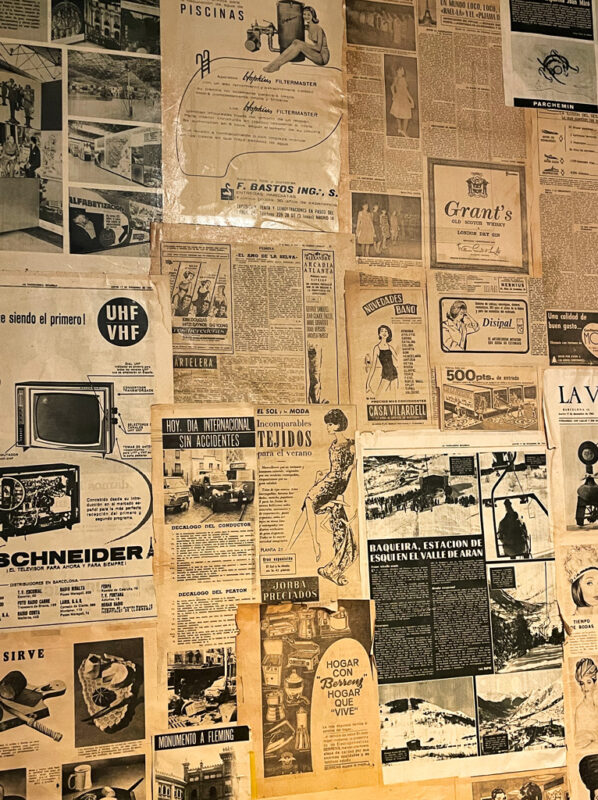 Decoration of old newspapers, simple but creative!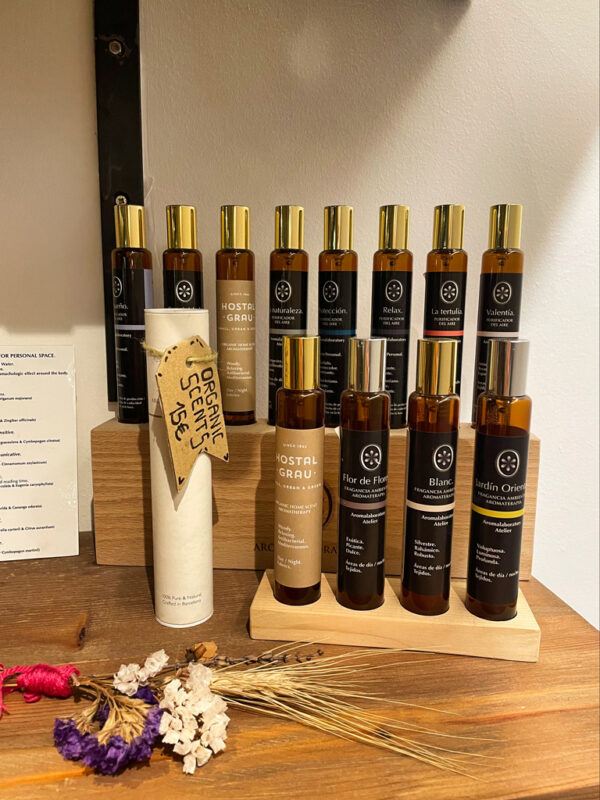 The Hostal Grau room fragrances can also be purchased
The color scheme of the rooms is a contrast between the white painted walls and the warm tones of the wood furniture. I have to admit that I was positively surprised by such a minimalistic design, since I'm actually a person who likes a variety of colors. However, in this case it wasn't boring at all, and probably that's what creates a certain domestic atmosphere.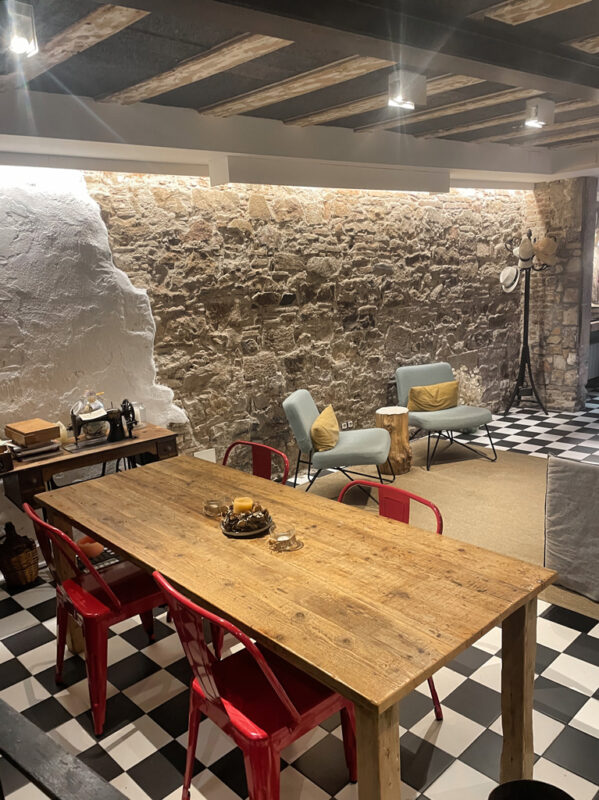 The lounge is large, cozy …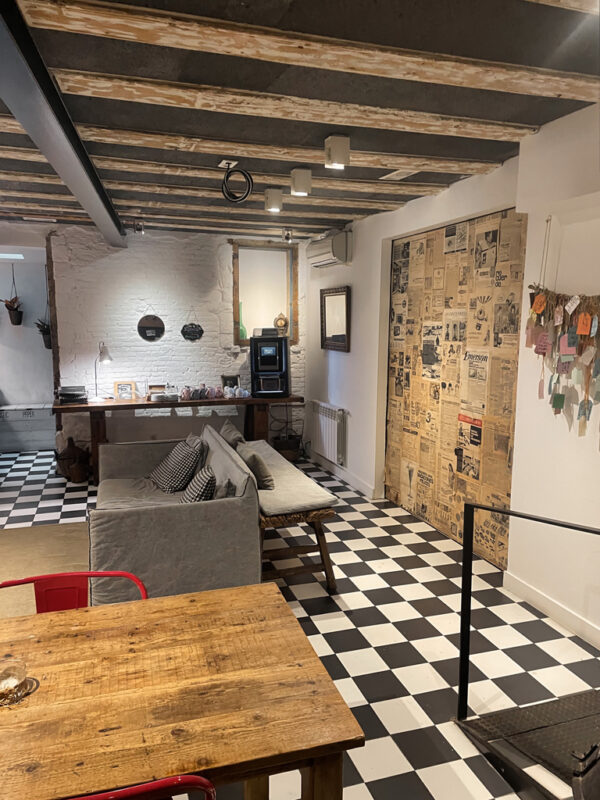 … and very eye-catching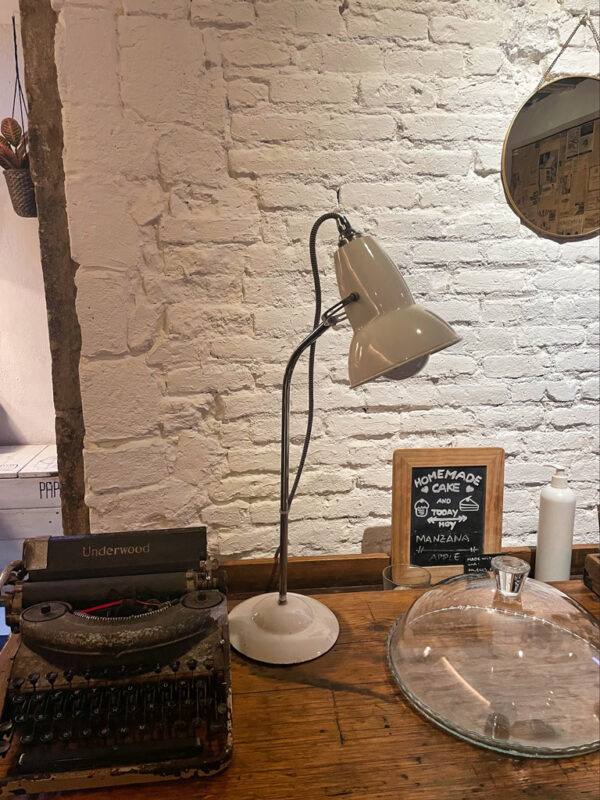 In case the guests don't want to use WhatsApp 🙂
Hostal Grau has a good selection of rooms for different budgets. From a normal double room to a deluxe room, everything is available. If you want to stay longer in Barcelona, you can even book a whole apartment with a kitchenette. I was in a so-called "OFF ROOM". This room has two special features: Firstly, there are various measures to reduce the electromagnetic radiation from Wi-Fi and mobile phones to a minimum. Secondly, this room is adapted for the needs of wheelchair users.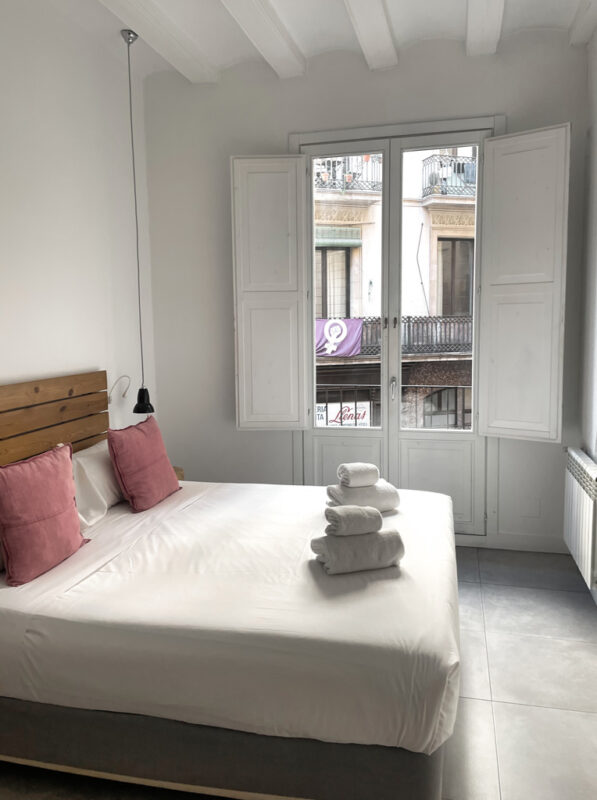 A part of my room …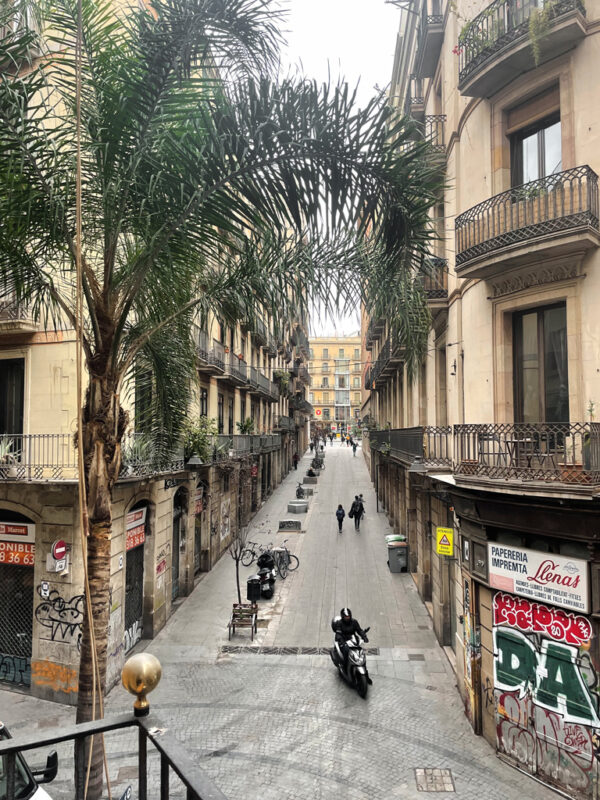 … and a view from my little balcony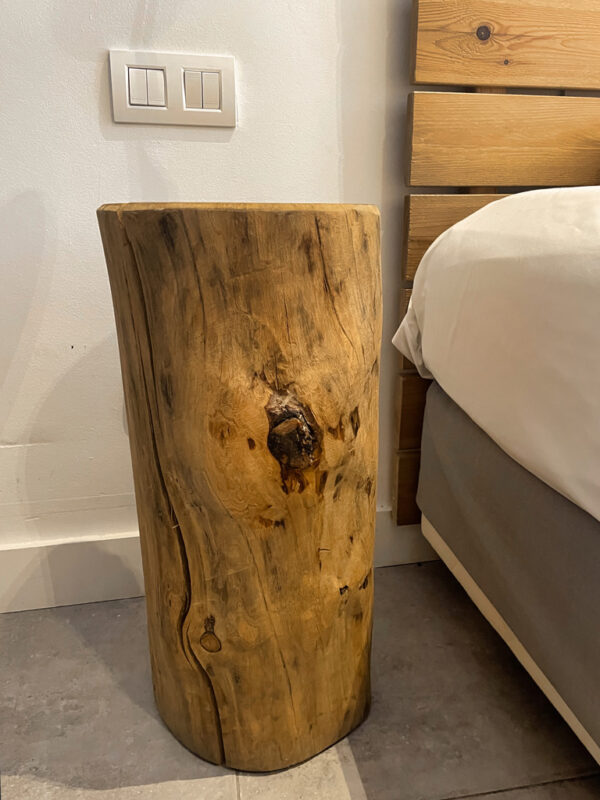 Fancy design also in the room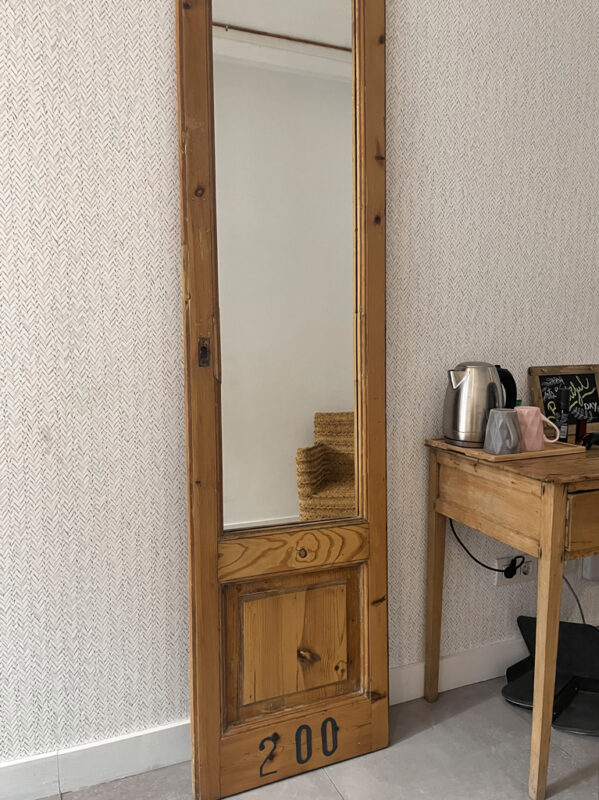 Have you ever had such a mirror in your hotel?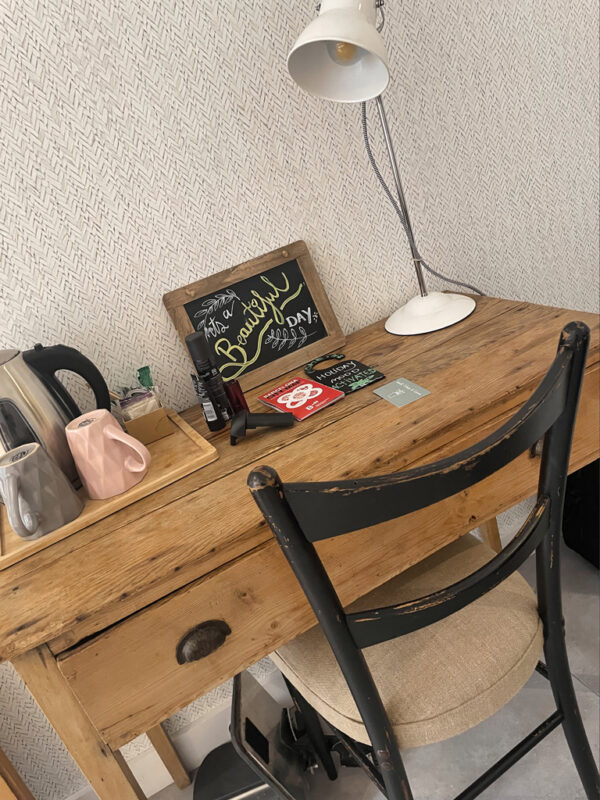 Place for writing postcards 😉
Now let's talk about the important topic of accessibility. After all, even the most beautiful hotel is useless for me if it is not wheelchair accessible. In Hostal Grau, the few steps in the entrance area are equipped with ramps and the rooms can be reached via an elevator. The accessible room has the size of 25 m2 and although it is equipped with a double bed, armchair and desk, I still had enough space to move around with my electric wheelchair.
Regarding the bathroom, people with disabilities naturally have different needs. My room had a roll-in shower, a shower chair and a large grab bar. This is more than sufficient for me. Nonetheless, the hosts told me that they always do their best to make individual wishes possible. So if you need something additional, I recommend you to contact the hotel in advance.
At this point, I have to inform you that unfortunately, the accessibility can not be guaranteed for everyone. The reason is the size of the elevator. My electric wheelchair has the measures 64 cm x 105 cm and fit into the elevator. Probably, you won't have any trouble here with most standard wheelchairs either. But for people with large electric wheelchairs, this hotel is unfortunately not suitable due to the size of the elevator. To avoid any unpleasant surprises, I suggest to get in touch with Hostal Grau directly (contact details are below) and clarify this matter.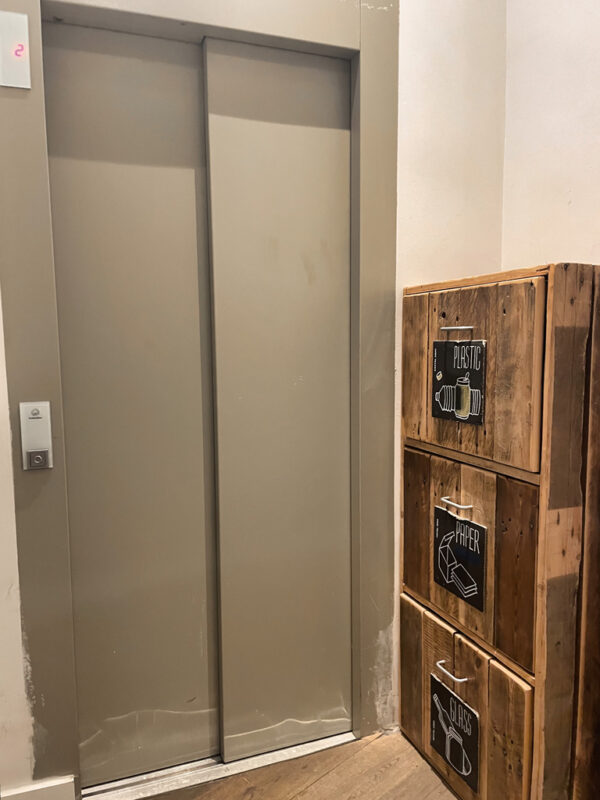 To give you a little idea of the elevator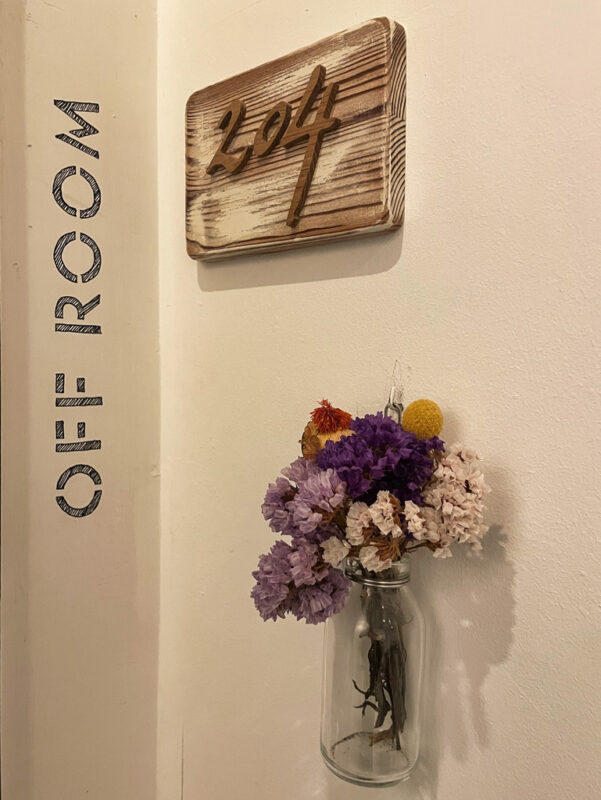 OFF ROOM: a special room in Hostal Grau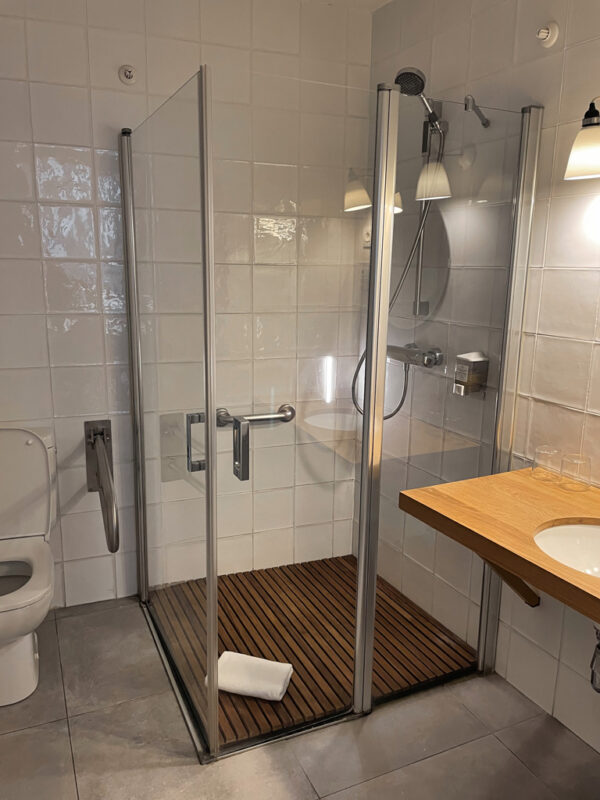 Wheelchair accessible bathroom
Cleanliness is certainly a decisive factor for all hotels. In Hostal Grau there was nothing to complain about it. All areas where I stayed were clean and my room was tidied up every day.
The staff at the 24-hour reception was always friendly and helpful. On my last day, for example, I was able to store my bags in the luggage storage and spent a few more hours in Barcelona. It is also possible to bring your dog to the hotel or to book a pickup service from the airport. For breakfast, there is a homemade cake for all guests, some fruits, and coffee from a very good coffee machine.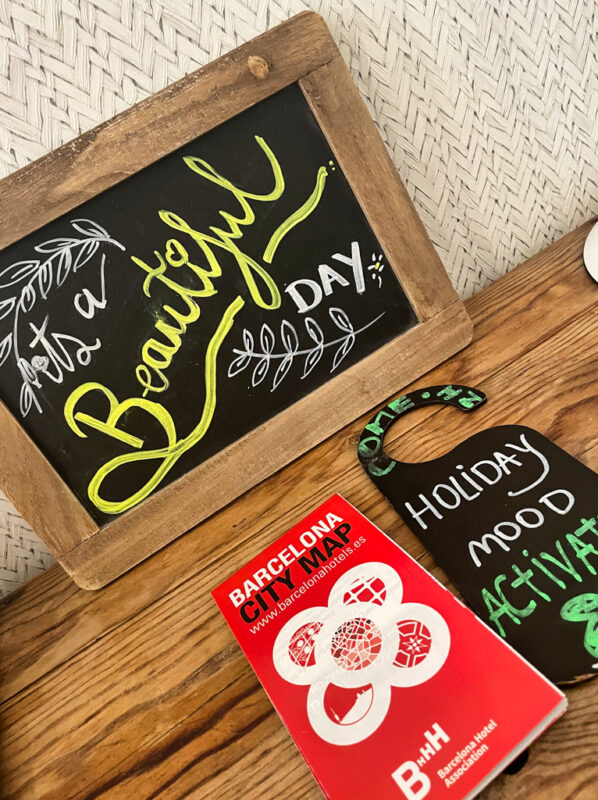 The hotel offers many different services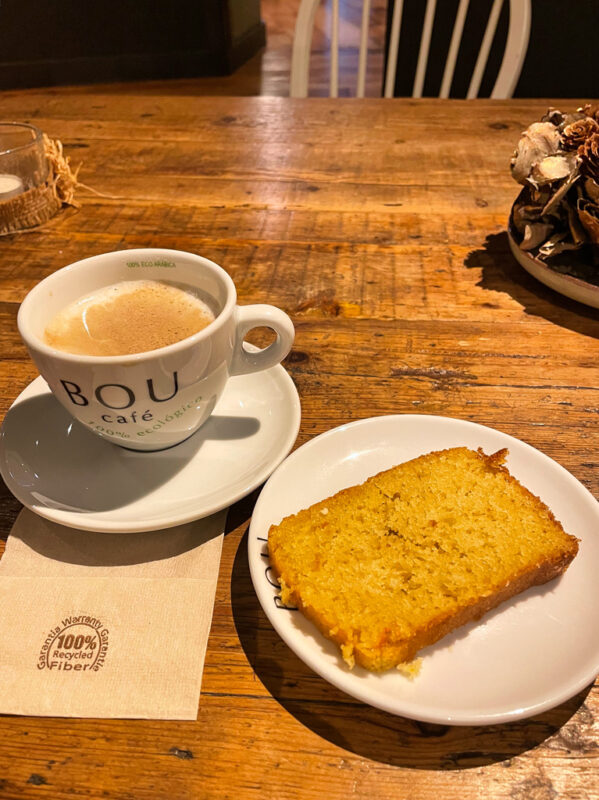 Coffee and homemade cake for breakfast
I had a really great time in Barcelona and Hostal Grau certainly contributed to that. With my electric wheelchair, I had absolutely no difficulties in this hotel and moreover, it was just super comfortable to be in the middle of the city center. Of course, one shouldn't expect a pompous luxury hotel here, but rather a small, cozy accommodation, where the environment and the well-being of the guests have the highest priority. The only point of criticism is probably the size of the elevator, although as already mentioned, it only affects people with larger wheelchairs.
If you are interested in Hostal Grau but have any questions or special requests, I recommend you to contact Monica Grau, owner and manager of the hotel (phone: +34 639 33 40 60 e-mail: monica@hostalgrau.com). You can also find more information at www.hostalgrau.com
*I had a sponsored stay at Hostal Grau, which doesn't influence this hotel review. As always, this blog post is based on my own impressions and opinions.