The Challenges of the Impressive City of Prague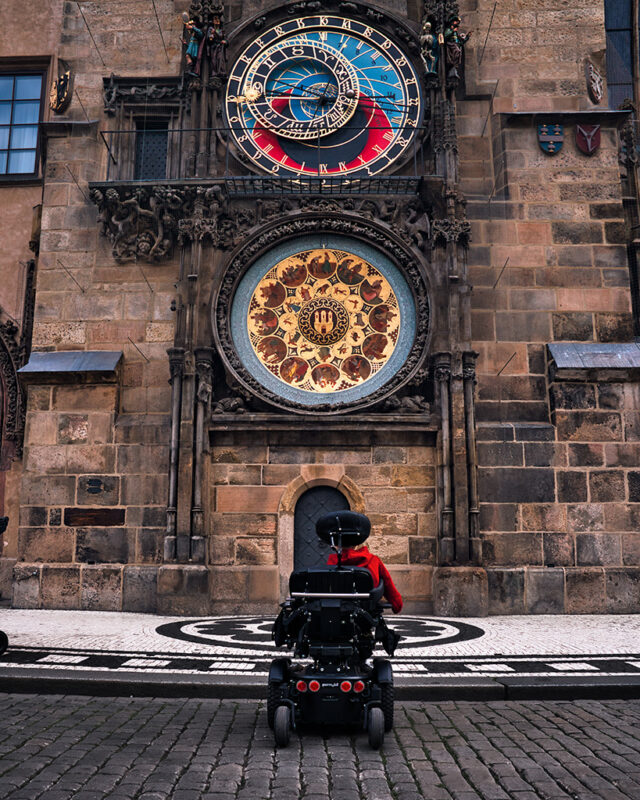 The Astronomical Clock from the 15th century
Prague, one of the most beautiful cities in Europe, offers visitors a wealth of historical landmarks, delicious food, and relaxing beer gardens. But is there a way to experience the Czech capital as a wheelchair user? I tried it out and I'm here to share my experiences with you!
Before I delve into some of Prague's highlights, I have to say a few words about the gastronomic options of the city. Prague is well-known for its beer gardens, which are an essential part of the culture. Beer lovers will definitely not be disappointed here, as there are many local beer varieties available and the beer is also much cheaper than in other countries, like Germany. Even if beer isn't your preferred drink, you can still relax, enjoy the city's atmosphere and savor the delicious food. The culinary variety in Prague is so vast that it could fill a whole book, so I will just give you my personal top recommendation – Trdelnik. This is a yeast dough that is rolled into strips, baked over hot coals, and then filled with ice cream or other toppings. Although Trdelnik actually comes from Slovakia, it is sold on nearly every street corner in the Old Town of Prague and is truly delicious!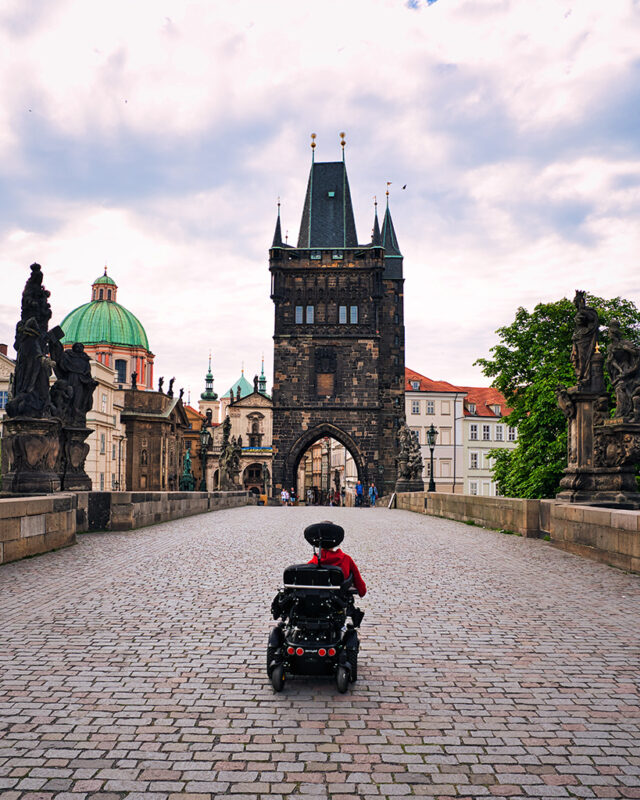 The Charles Bridge is known for its statues of historical figures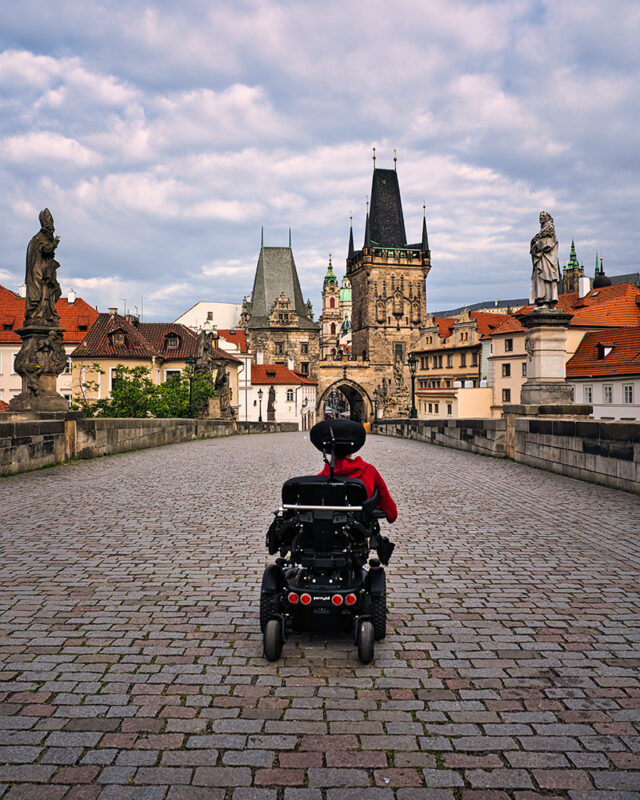 For such a photo without crowds, you have to be there very early 🙂
I spent the whole weekend in Prague and although I saw a lot, this city still has more to offer. So, I can't provide information about all the sights and activities, but I would love to recommend a few places that could be great for your weekend getaway.
One of Prague's most famous landmarks is the Charles Bridge. This historic bridge crosses the Vltava River and offers stunning views of the city. In addition, you will encounter many street artists and musicians, who create a charming atmosphere. Just keep in mind that it can get quite crowded during the day, so it's best to visit at sunrise or late at night.
Another must-see is the Astronomical Clock at the city hall. This clock is truly a masterpiece and not only shows the time, but also the positions of the sun, moon, and stars. Furthermore, the twelve figures on the clock come to life every hour – you shouldn't miss it 😉
The Prague Castle, one of Europe's largest castles, is an unmissable attraction for any traveler. The complex consists of gorgeous churches, palaces, parks and museums. However, be aware that the castle is located on a hill and the ascent can be difficult for wheelchair users. So, make sure to bring a companion and choose a sunny day.
If you have enough time, don't skip the National Museum. From dinosaurs to magnificent treasures, gems, and jewels, there will be something for everyone! A tip for wheelchair users: the accessible entrance to the old building (the most interesting part of the museum complex) is located directly across in the new building. Cross a short underground tunnel and take two different elevators to reach the exhibitions in the old building.
Prague is also a photographer's paradise with plenty of fantastic photo opportunities. Whether you're a professional photographer or an influencer, you'll be able to find great spots to capture some Instagram-worthy moments. Although most locations are historically based, you will come across unique modern architecture from time to time. The Dancing House is a well-known example. Don't forget to snap some cool photos and update your Instagram profile 😊
Your Instagram will thank you for a photo in front of the dancing house 😉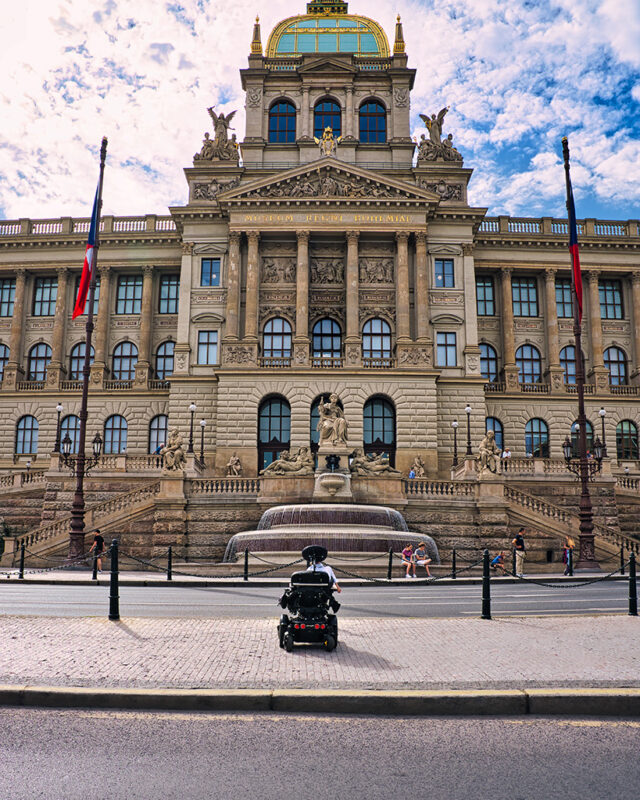 The National Museum is worth seeing even from the outside
Challenges for wheelchair users
In recent years, Prague has made some progress in terms of accessibility, but people in wheelchairs still often encounter obstacles. Narrow sidewalks and buildings that can only be reached by stairs are not uncommon. Another challenge for those in a wheelchair is the large amount of cobblestone in the city. Unlike many other European cities where cobblestone is mostly found in the old town, you'll find it almost everywhere in Prague. Depending on your physical condition, getting around can be more or less difficult and I have to admit, after this weekend, I needed a few days to recover. Nevertheless, it is possible to explore Prague in a wheelchair by planning ahead and seeking assistance if necessary. I was able to see all the important sights and even though it was sometimes strenuous, I had a great time in this lovely city!