Barcelona: The perfect city to begin your travel adventure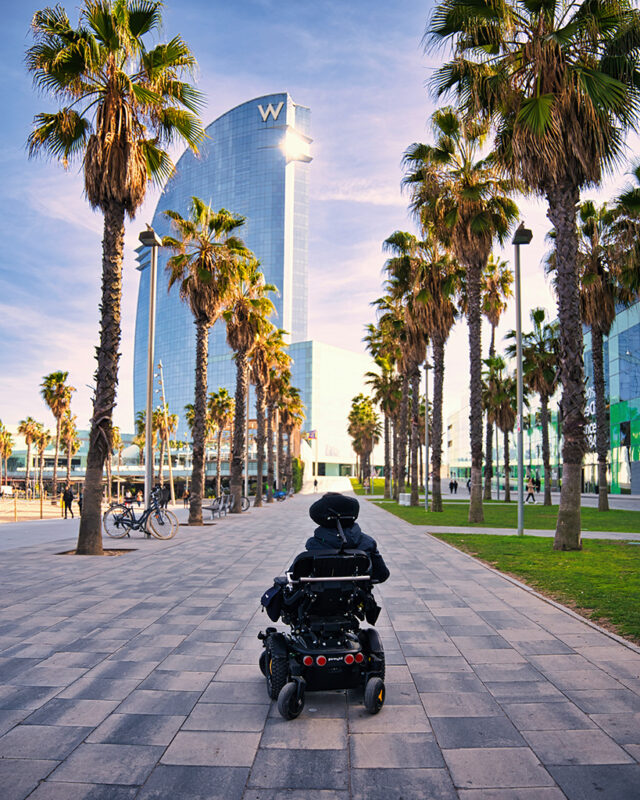 From the beaches to the unique architecture, Barcelona has something for everyone
Are you dreaming of going on a trip, but feeling a bit unsure or worried? Don't sweat it! Traveling isn't as tough as it might seem, and you certainly don't need to be a millionaire to explore the world. Traveling, even with a wheelchair, is not only possible but incredibly enjoyable! All it takes is a willingness to embrace something new, and step out of your comfort zone. If you don't have any travel experience yet but can't wait to get started, I really recommend Barcelona. It's a great place to begin your adventure, and in this article, I'll share why Barcelona is an excellent choice for novice travelers.
In the beginning, I had little knowledge about how to travel with an electric wheelchair and getting around in foreign places. That's why I started off with quick city hops within Europe. But with time and experience, I found myself effortlessly organizing and embarking on more extended adventures across different continents. Trust me, if you try it out a few times, you'll see that you can do it too! So if you're also living in Europe, Barcelona offers numerous advantages to make your travel experience easier:
Direct Flights: Barcelona is well-connected with direct flights from many European cities, reducing the hassle of layovers and long travel times.
Budget friendly options: Although Barcelona is a popular tourist destination, you can find reasonably priced flights and accommodation, especially during off-peak seasons.
Euro Currency: The Euro is the local currency, so there is no need to exchange money and this makes your financial management a lot more convenient.
Walkable City: Barcelona's compact layout makes it easy to explore on foot, sparing you the need to rely on expensive transportation options.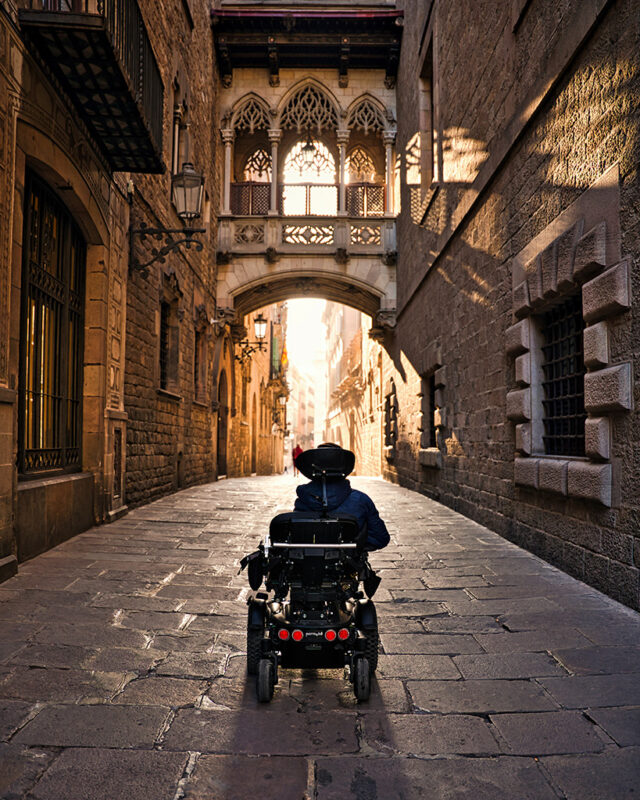 Carrer del Bisbe: A charming highlight in the heart of Barcelona
Barcelona takes the topic of accessibility very seriously and has made significant efforts to remove barriers for people with disabilities. Although not everything is perfect yet, I can say from my own experience that as a wheelchair user, I felt very comfortable in this city. One of the noteworthy features is the Aerobus (blue colored), which serves as a fast and convenient transportation option from the airport to the city center. It is equipped with electric ramps for wheelchairs, making your journey hassle-free. Additionally, the city buses in Barcelona are also wheelchair accessible, ensuring that you can get around comfortably during your visit.
When it comes to sightseeing, the good news is that most of Barcelona's famous landmarks are wheelchair friendly. The roads are well-paved and the lowered curbs are all over the place. Cobblestone streets are indeed rare, and where they do exist, alternative paths are often available. Barcelona truly goes the extra mile to ensure a pleasant experience for all travelers.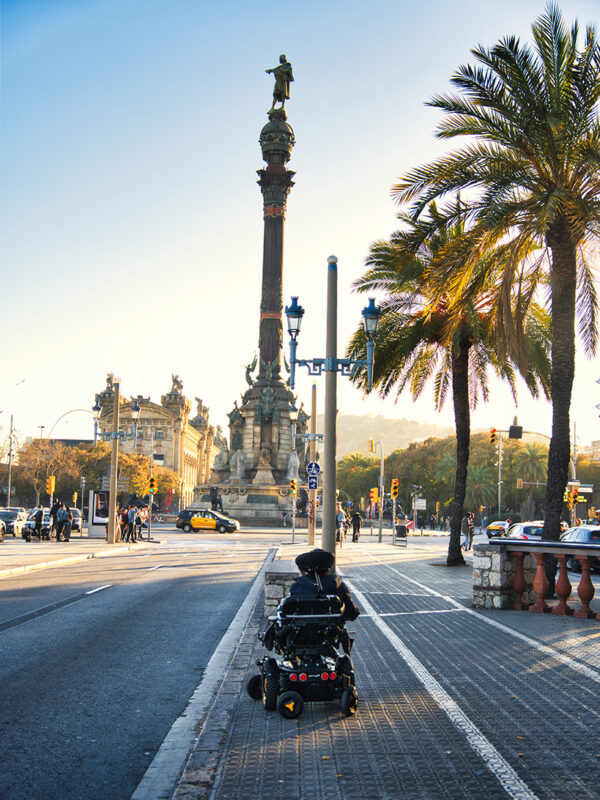 Barcelona's picturesque streets are wheelchair-friendly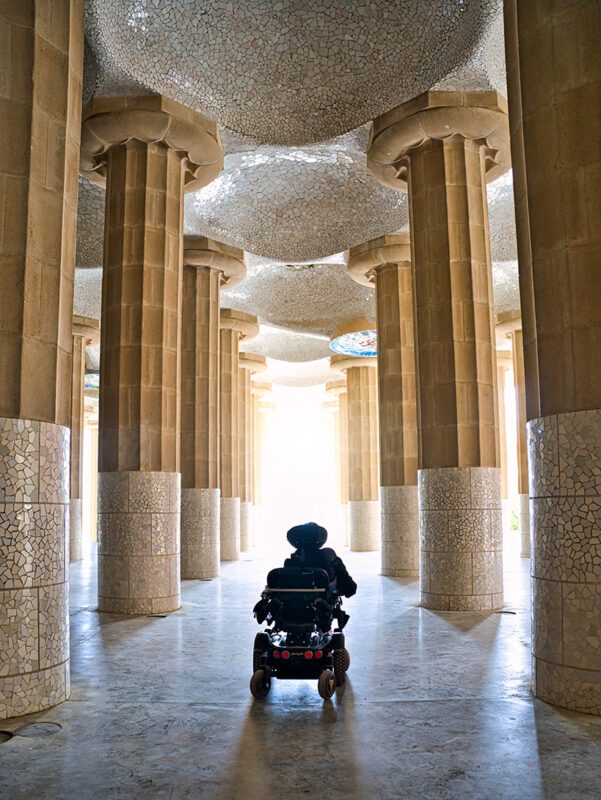 The famous Hypostyle Room in Park Güell
Another fantastic aspect of Barcelona is that it's a year-round destination. With its mild winters, you can visit the Catalan capital any time, but those who easily feel the cold (like me) might want to consider avoiding December and January when temperatures can be a bit cooler. So, I highly recommend late February and March because during this time, there are not too many tourists, allowing you to bask in the sunny, warm weather without the crowds. Furthermore, you can have a special time in Barcelona because you can explore the city and chill at the beach – something not common in most big European cities. One of the best places to soak up the sun and sea is the lively seaside neighborhood "La Barceloneta". Here, it's worth noting that the needs of people with disabilities have been taken into account, offering adapted beaches and a very wheelchair-friendly beach promenade.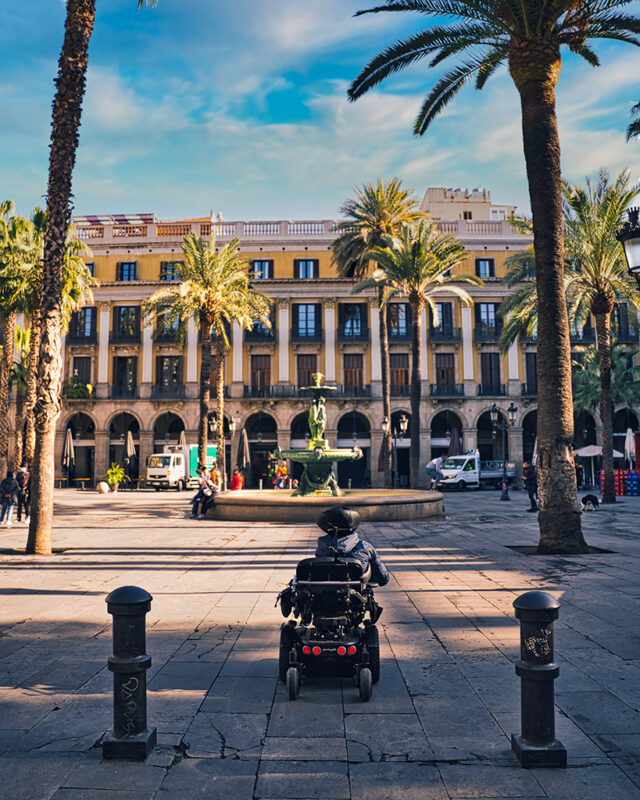 With this weather, it's a struggle to ignore the charming cafes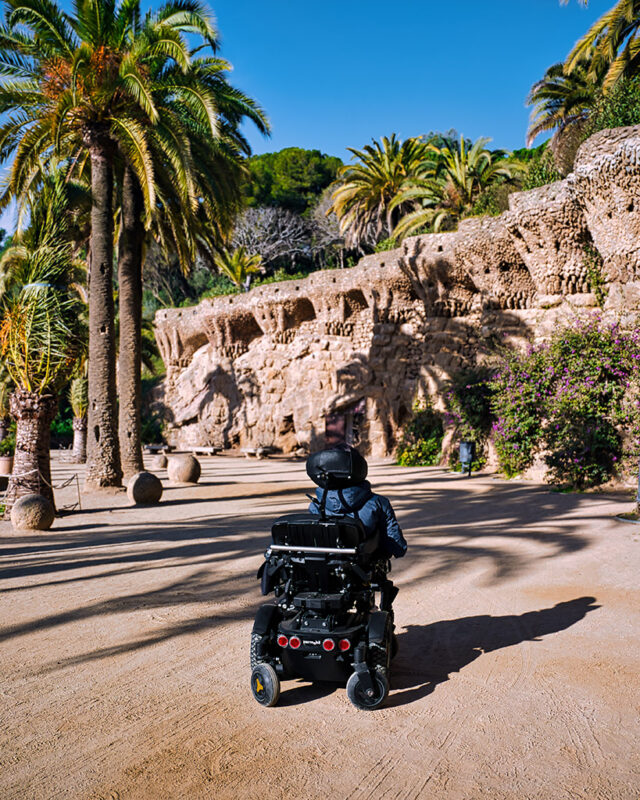 Park Güell: a fascinating blend of nature and art
There are plenty of amazing things to see and do in Barcelona, and one of the absolute best is the Sagrada Família. Designed by Antoni Gaudí, this iconic cathedral has been under construction since 1882 and is still not finished. The building looks really special because it's a mix of two different styles, Gothic and Art Nouveau, which is why it's classified as a UNESCO World Heritage site. Once you step inside, you'll be amazed by the abundant natural light, intricate decorations, and towering columns resembling trees. The Sagrada Família is a must-see in Barcelona and is a prime example of the city's incredible architecture.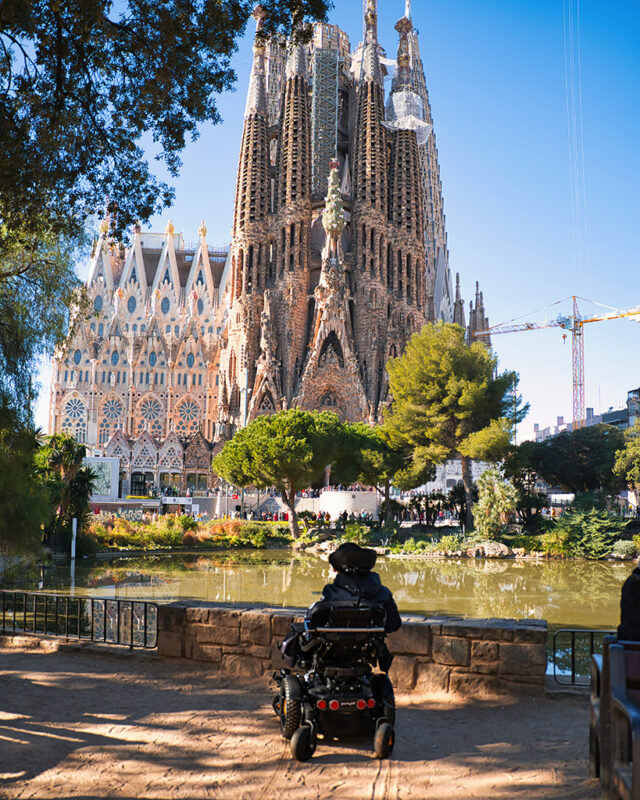 Unfortunately, after more than 140 years, the Sagrada Família is still unfinished
Speaking of Gaudí, let's talk about this famous architect known for his highly unconventional architectural style. He loved nature and used it as inspiration for his buildings. You can check out more of his amazing work around the city, like Park Güell, Casa Vicens, and Casa Batlló. Especially Park Güell is unique because of its bright mosaics, unusual sculptures, and wavy benches. Unfortunately, I was a bit disappointed with the accessibility at the park, as it was the only place in Barcelona where I encountered some challenges. It doesn't provide full wheelchair accessibility, and the pathway leading to it is quite steep because Park Güell is situated on a hill. Nevertheless, I have no regrets about going, and on a sunny day, the trip to Park Güell is definitely worthwhile, even for wheelchair users!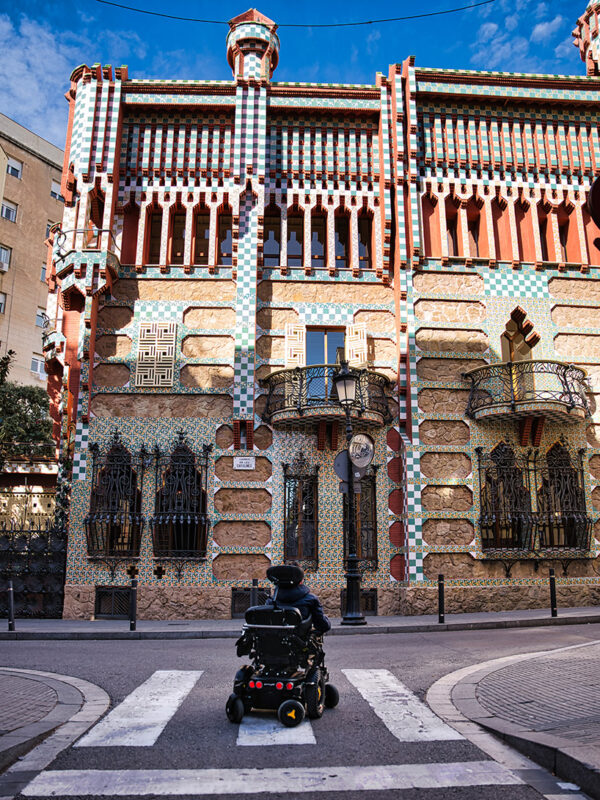 Casa Vicens is Antoni Gaudí's first building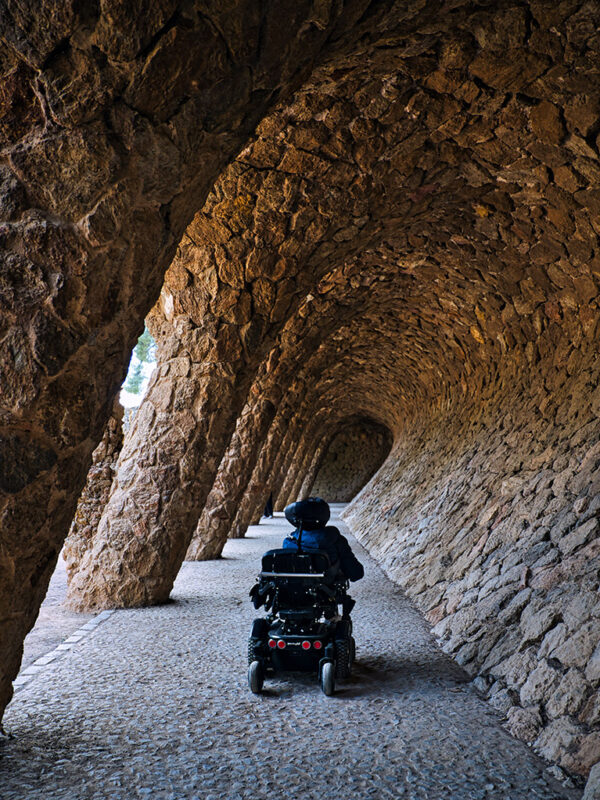 Sloping and curved shapes are typical of Gaudí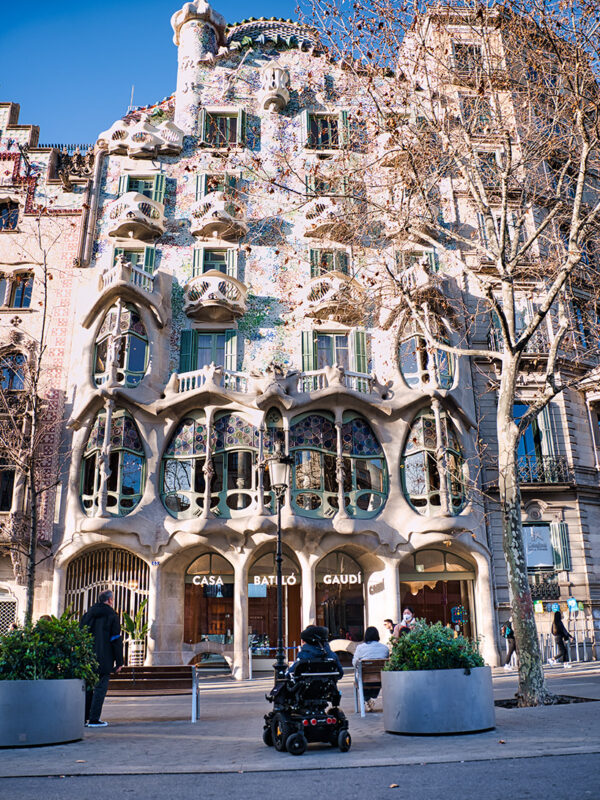 Casa Batlló: A fairytale house in the middle of Barcelona
But there's more to Barcelona than Gaudí. Explore La Catedral, Carrer del Bisbe, The Kiss of Freedom, Arc De Triomf, Passeig de Colom, Parc de la Ciutadella, and Font Màgica de Montjuïc. Each of these places is worth a visit, and they're sure to fill your Instagram feed with stunning pictures.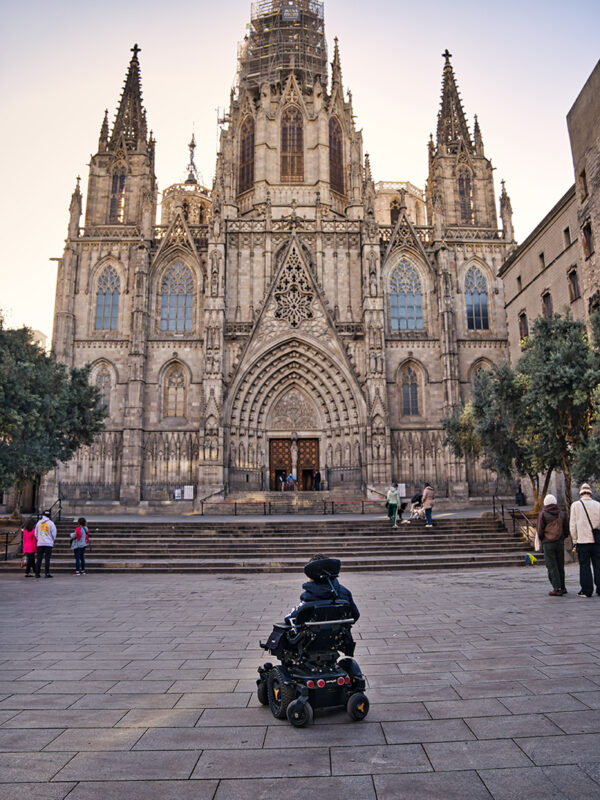 The historic Old Town of Barcelona and the cathedral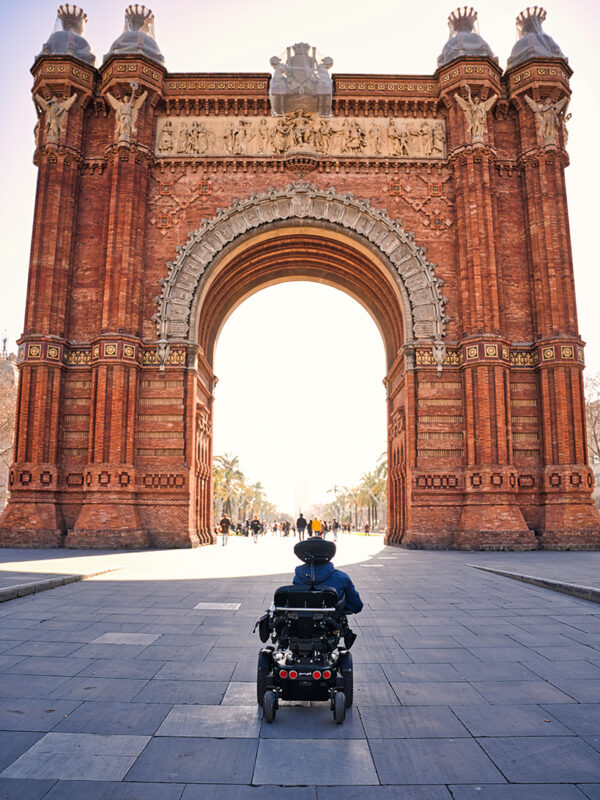 Arc De Triomf is located in front of Parc de la Ciutadella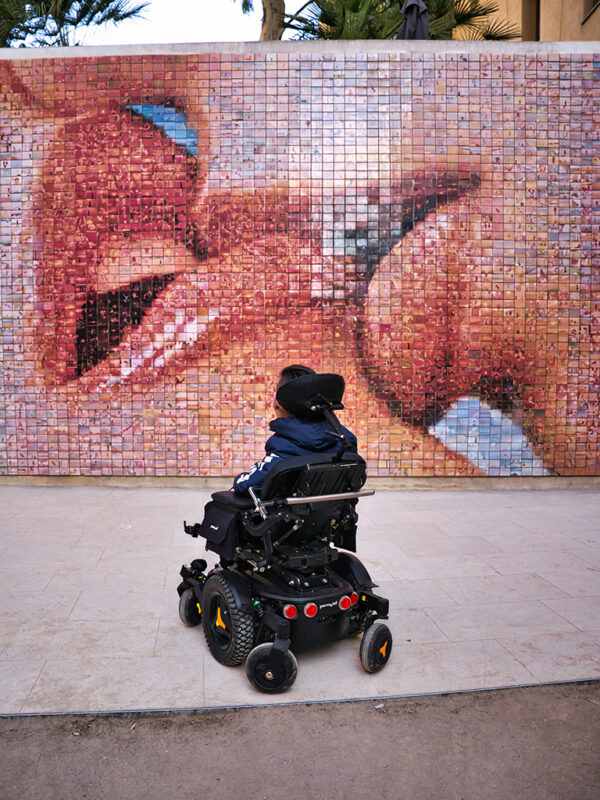 You can find ``The Kiss of Freedom`` in the Gothic Quarter
In conclusion, Barcelona is the perfect city to start your travel adventure, offering a blend of European conveniences, accessibility, delightful weather, and a wealth of attractions. Whether you're a novice traveler or a seasoned explorer, the Catalonia's gem has something for everyone. So pack your bags, and let Barcelona be your gateway to a world full of exciting experiences and unforgettable memories.