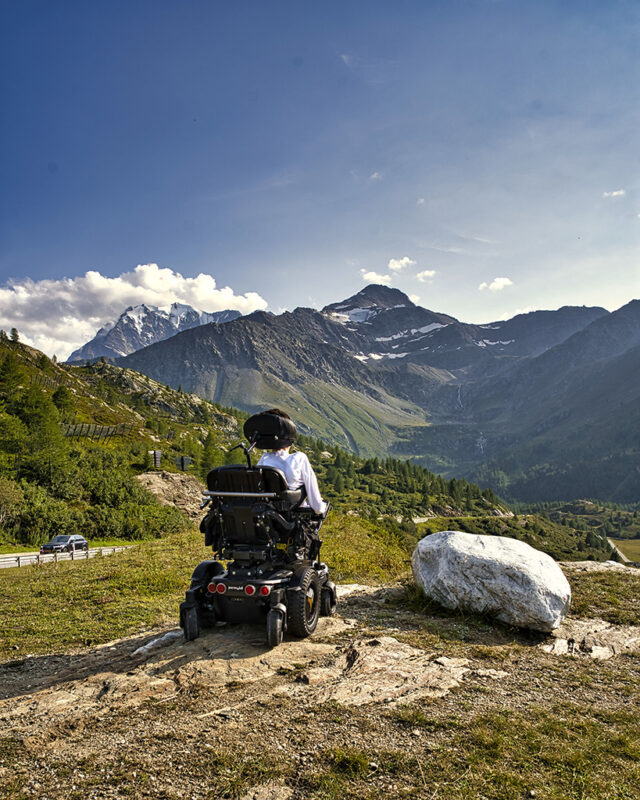 A short stop on an ordinary Swiss road
Like Iceland and Norway, Switzerland is one of the top addresses in Europe when it comes to experiencing unique nature. With around 1500 lakes, as well as countless mountains and waterfalls, there are many stunning places in this country which can be visited at any time of the year. Many of these places are accessible, so that you can admire the mountain landscapes even with a wheelchair. I have already written about the largest waterfall in Europe (article about Rhine Falls) and here are four other popular destinations in Switzerland.
The resort region of Interlaken is located in the heart of Switzerland and is a perfect place to discover many beautiful sides of the country without any rush. Interlaken itself is a small town – one can actually almost speak of a village – with the typical Swiss flair. There are two beautiful lakes here, Lake Thun and Lake Brienz, surrounded by three huge mountains Eiger, Mönch and Jungfrau. The region is well known for paragliding, and also for numerous hiking trails and ski slopes. However, the rather relaxed tourists and even wheelchair users will not be bored here either.
If you want to see more someday, you don't have to do a long search, because in the immediate neighborhood of Interlaken you will find many more leisure activities. Only a few kilometers away are Grindelwald and Lauterbrunnen, two idyllic villages in the middle of nature. If you prefer some thrills, you can go up to the Schilthorn, where a James Bond movie was filmed in 1969. A trip to Jungfraujoch, the highest railroad station in Europe at 3,454 meters, is also one of the must-sees in Switzerland. Unfortunately, I did not have time for that during my visit, but I was at two other places, which I would like to introduce here.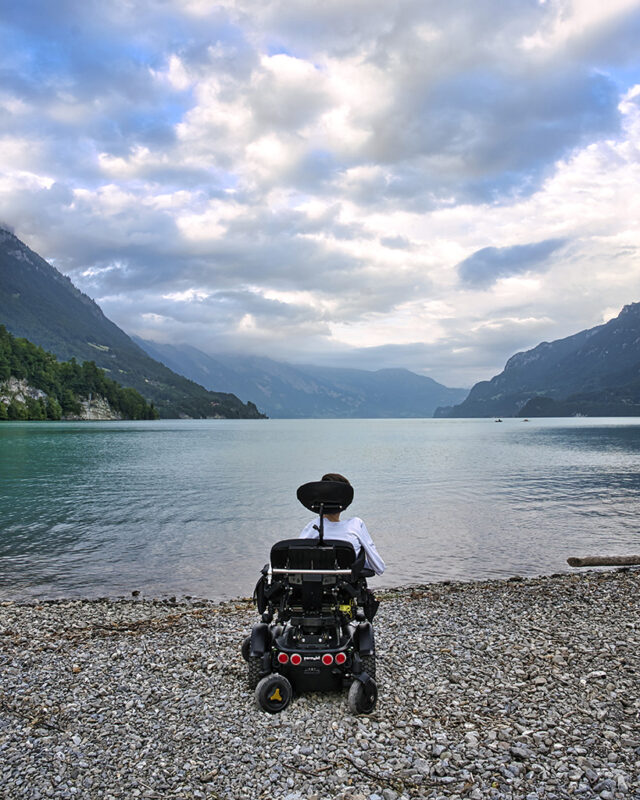 Interlaken: a place where you can forget everything else for a moment
If you thought you couldn't reach the top of a big mountain in a wheelchair, you're wrong. It is definitely possible in Switzerland! According to my research, the previously mentioned Jungfraujoch incl. Ice Palace is supposed to be accessible. From my own experience, however, I can confirm that you can go up to the Harder Kulm, Interlaken's local mountain, with a powerchair. The Harderbahn (next to the Interlaken Ost train station) can take everyone comfortably to the top of the mountain in about 15 minutes. Wheelchair users only have to use the rear entrance (about 300 m from the main entrance) and then drive into the Harderbahn via a small ramp. After that, you probably won't be able to stop marveling. The viewing platform at 1,322 m is really incredible and provides fantastic views over the mountains and lakes of Interlaken. There is also a large restaurant at the top, though like everything else in Switzerland, it's not very cheap.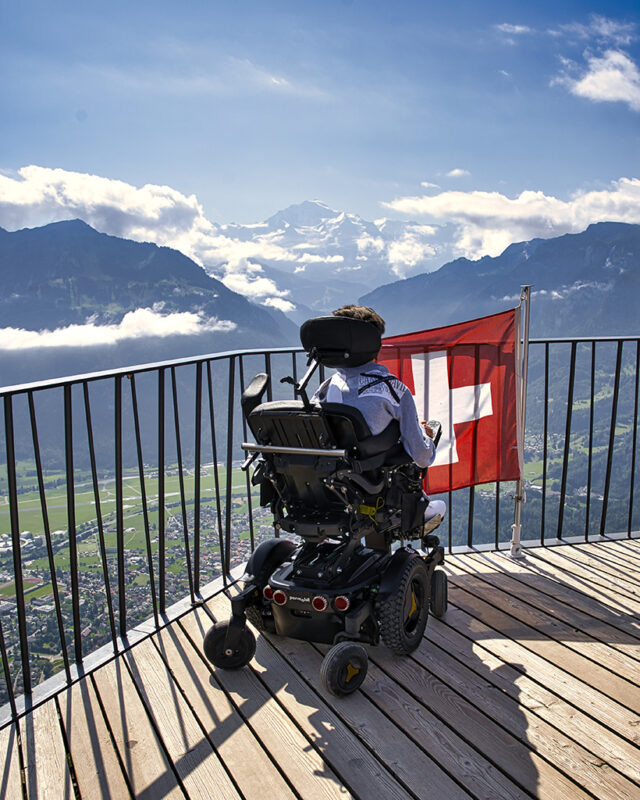 Accessibility even exists in the mountains!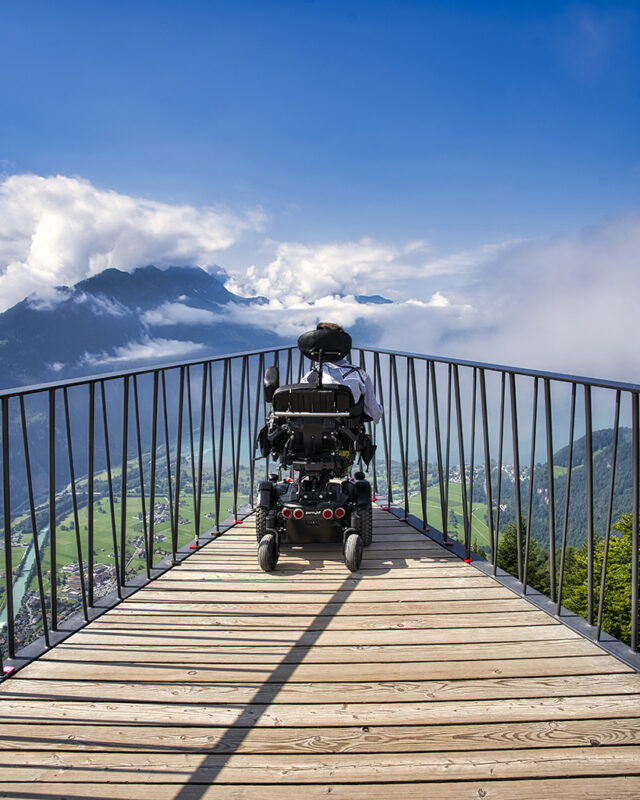 Breathtaking views from the top of Harder Kulm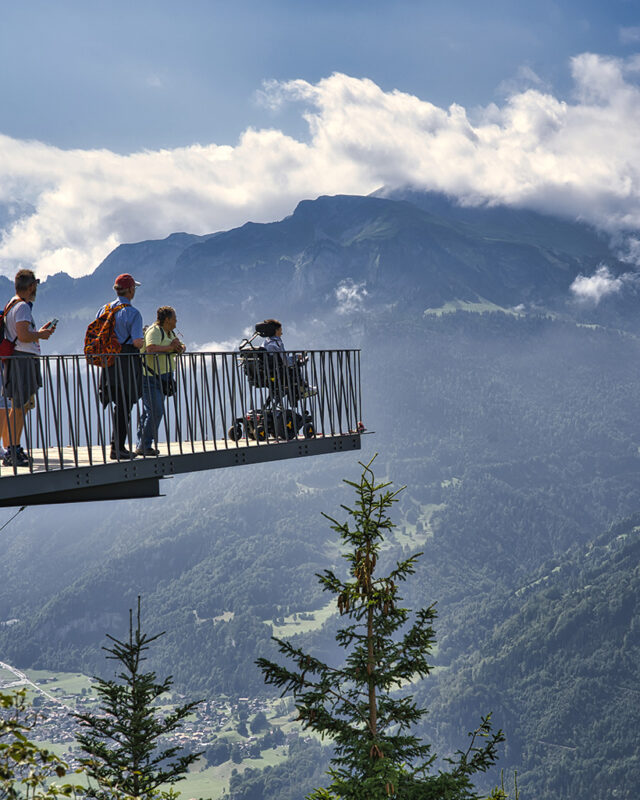 1,322 m altitude and still no fear of heights
The Swiss municipality of Lauterbrunnen is for good reason a very popular destination among all photographers and influencers. The photos of this place can be found on various media and even personalities like Goethe or J. R. R. Tolkien were inspired by it. Fans of "Lord of the Rings" will probably recognize a slight resemblance to Middle Earth. Nevertheless, everyone else will definitely be fascinated by this location, too. After all, where else can you find a village with one of the highest free-falling waterfalls in Europe and such a gorgeous mountain backdrop. In addition to the 300 m high Staubbach Falls, it is said that there are even 72 waterfalls in Lauterbrunnen (some of them are underground). No clue whether this number is correct, but it is actually irrelevant. The fact is that nature lovers will not be disappointed here and I would be happy to visit this place again someday.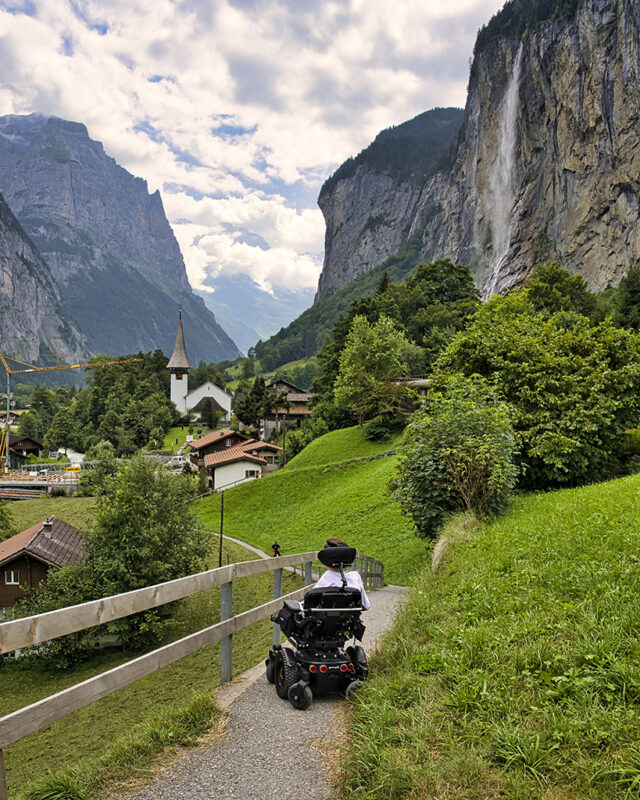 In search of the hobbits 🙂
It is impossible to see all the beauties of Switzerland during a single trip. Therefore, as the fourth and last stop, I chose the Matterhorn. It is the most famous landmark of Switzerland and the most photographed mountain in the world. So you can probably imagine that I also had to take some photos here. In this regard, the city of Zermatt is the perfect place for all alpinists, skiers, photographers and other tourists. It is important to know that Zermatt is a car-free town, so you can get there only by train. Nevertheless, this is not complicated at all. If you arrive with your own car, as I did, you can simply park in Täsch (5 km from Zermatt) and reach your destination by train shuttle in just 12 minutes. Both the train station and the train shuttle are very modern and have no obstacles for wheelchair users. Of course, there are also other train connections, so you can go to Zermatt even without a car.
Favorite activities in Zermatt are the fantastic viewing platforms on the Gornergrat and Rothorn, as well as the Matterhorn glacier paradise. If you are on the hunt for some marvelous photos, you should get up very early and make your way to Lake Riffel or Lake Stelli. By good weather conditions there will be a magnificent Matterhorn reflection on the surface of the water, so you can create really unique photos. All these places can be visited via the Gornergrat Bahn or the funicular (to get to the lakes you have to do an additional short hike). Unfortunately, I also have to say that such tickets are really expensive. That' s one of the reasons why I decided to skip such activities on my first trip and "only" explored the small town of Zermatt instead. But believe me, even in the city itself, I had more than enough to do and I will hopefully come back for everything else at another time.
Besides many cozy bars, restaurants and stores, there also exists a very old district, which still preserves up to 500 years old houses of highland farmers. I spent almost a whole day in Zermatt and really enjoyed the Swiss village atmosphere. While walking through the town, I often discovered great perspectives of the Matterhorn and the memory of my camera was getting smaller and smaller 🙂 Therefore, you don't necessarily have to drive up high, in order to get good views of this famous mountain. However, if you want to enjoy all the highlights of this area, you definitely have to plan more time and more money. I hope this article has inspired you to visit Switzerland and that one day, you'll make the journey yourself 😉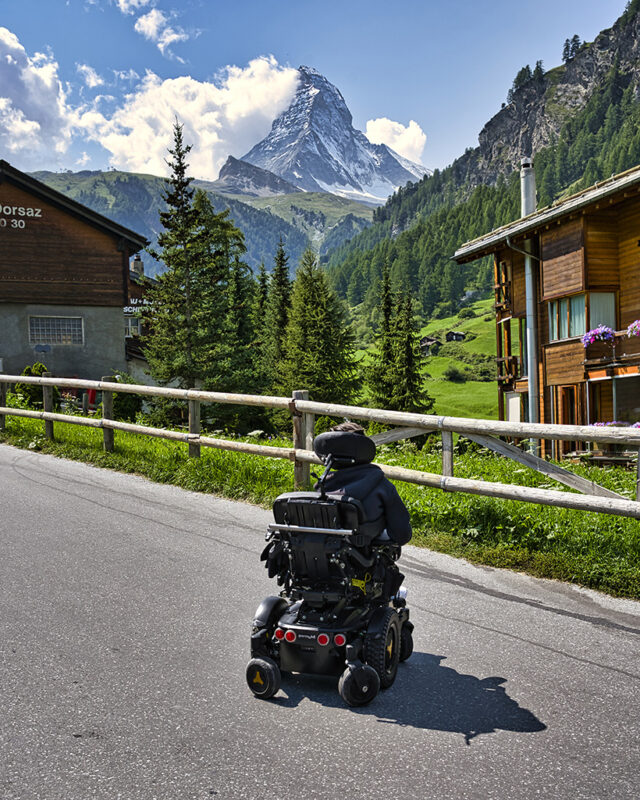 At the foot of the Matterhorn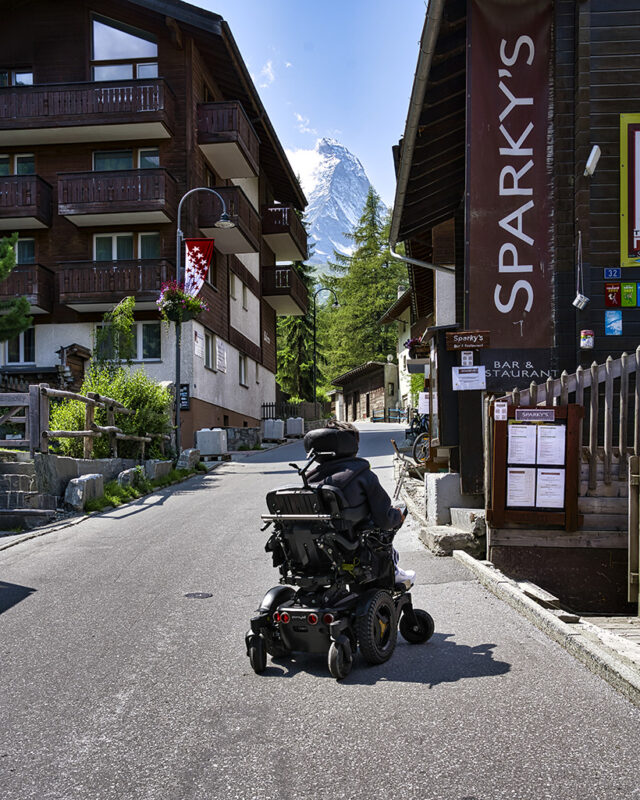 Mainly wheelchair accessible, but with some steep paths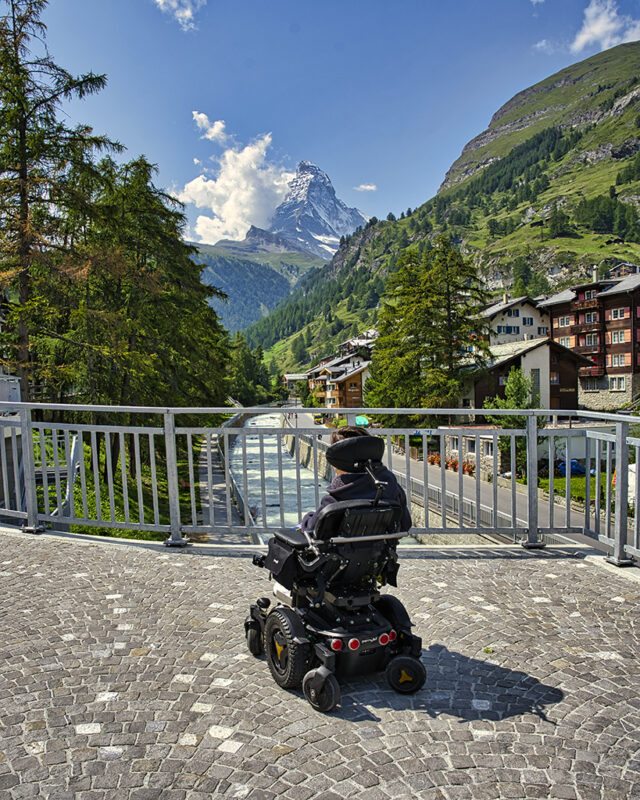 The Kirchbrücke is one of the most popular photo spots