Rhine Falls: Next to the biggest waterfall in Europe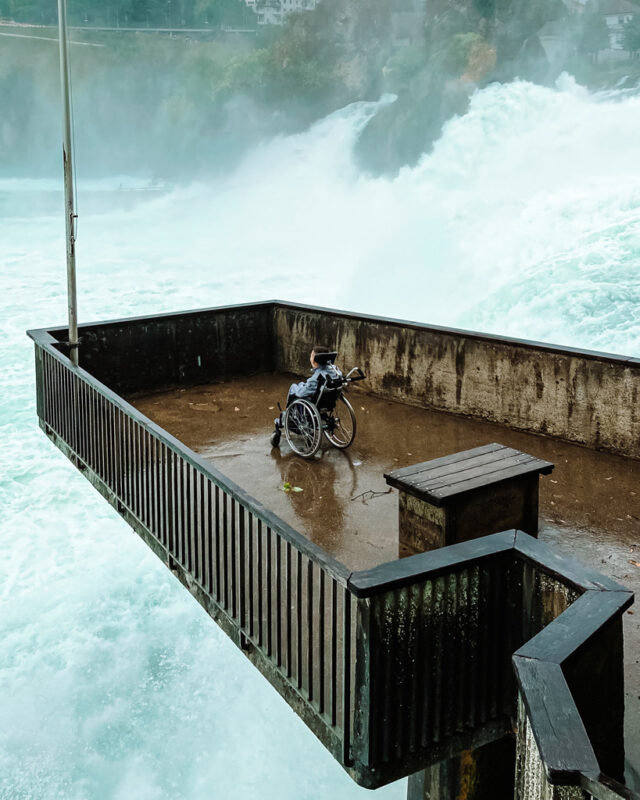 Unique viewing platform right next to the Rhine Falls
Fortunately, there are many fascinating waterfalls on our planet and they're all somewhat special and peculiar. The Rhine Falls near Schaffhausen is one of the three largest waterfalls in Europe and definitely worth a visit. Admittedly, the waterfall isn't very high and therefore can't be compared with the waterfalls in Iceland, for example. However, due the enormous water masses and generated power of the waterfall, it's still pretty impressive.
Different ways to experience the Rhine Falls
There are basically three different ways to experience the waterfall. The northern shore with the Wörth Castle attracts visitors with its beautiful promenade and several restaurants and cafés. This side is especially suitable for relaxed walks and offers a more distant view of the Rhine Falls (also accessible with a wheelchair or stroller). The second option is the round trip by boat, which also starts from the northern shore. The captain will take you very close to the waterfall and the very daring among you can climb up steep stairs (not barrier-free) onto a rock and enjoy a breathtaking view right in front of the waterfall. According to the official site, these ships are equipped with a ramp, but I haven't tried it myself, so I'd recommend you to ask beforehand. The address for the northern shore is: Rheinfallquai 32, 8212 Neuhausen am Rheinfall
I chose to visit the southern shore with "Schloss Laufen". Everything there is wheelchair accessible, except for the last viewing platform and a small cave. There is a visitor center with a restaurant and a spectacular glass elevator will take you to the great viewing platform "Belvedere". As already mentioned, the last and certainly the most exciting platform can unfortunately only be reached via several stairs. In my opinion, it's the biggest highlight of the Rhine Falls, because here you have the opportunity to experience the waterfall with its enormous water masses from a few meters distance (see photo). Since I really wanted to be there, I deliberately went on this trip without my electric wheelchair and was carried down by my hardworking helpers. I weigh very little, so something like this is possible for me, but of course not all wheelchair users have this "advantage". The address for the southern shore is: Areal Schloss Laufen, 8447 Dachsen
Visiting the Rhine Falls was an unforgettable experience for me and for all who don't have any mobility impairments (or at least have help like me) I definitely recommend the southern shore with "Schloss Laufen". You can literally feel the full power of the waterfall on these unique viewing platforms. For all others, I recommend the northern shore, because there are more opportunities for walks and you can also take a boat trip. In general, I would always combine a visit to this destination with a trip to other places, for example Lake Constance, which is only about 85 km away.