5 stunning hidden gems in Germany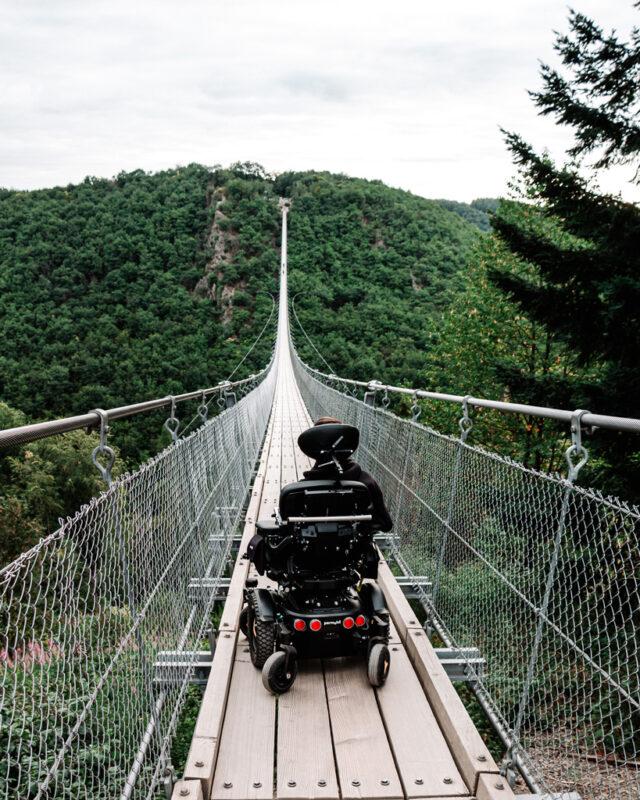 Geierlay suspension bridge: a little extreme experience also for wheelchair users
Traveling abroad was almost impossible for a long time because of the Corona pandemic. Therefore, in order to still experience something new, I explored many wonderful places in Germany, some of which I had never heard of before. I'd like to recommend you five such places in this post and of course also give you the necessary information about accessibility.
Geierlay suspension bridge
With a total of 360 meters, the Geierlay suspension bridge is the second longest hanging bridge in Germany. Many people are probably rather put off now due of the height, but I can only encourage you to try it anyway, because crossing the bridge is definitely a unique experience. Okay, I have to add that I'm not afraid of heights and I didn't mind looking down 100 meters. However, I think it's nowhere near as "bad" as you might imagine at first glance.
The pedestrian rope bridge Geierlay connects the villages Mörsdorf and Sosberg and can actually also be used by wheelchair users. At least as long as the wheelchair is a little narrower than the 85cm wide path! The bridge can theoretically be accessed from both locations, but I recommend the Sosberg side. The path from Mörsdorf is actually more comfortable, but there is a short but very steep descent at the end, which can be a little problematic, especially for electric wheelchairs. It is also very important to visit the bridge only in dry weather, because the tires would simply spin on the wet logging-path.
Königssee and the Berchtesgaden National Park
The Königssee (lake) is not really unknown but I would like to recommend it to everybody in this post. It is a truly beautiful place in the Berchtesgaden National Park, which impresses above all with its emerald green, clear water and the breathtakingly beautiful mountain landscape. By the way, due to the water quality, the Königssee is one of the cleanest lakes in Europe. My personal highlight is the boat trip to the Salet stop and the following short hike to the Obersee. There you'll find fantastic photo spots and you can also experience Germany's highest waterfall (470 m), the Röthbach waterfall. The Königssee is definitely a must for anyone who wants to see the most beautiful places in Germany!
In general, you can do a lot in the Berchtesgaden National Park and at Königssee. Many of these attractions are barrier-free, but some are not. However, I can only judge my boat trip to Salet, because I was only there for a very short time due to the bad weather. Unfortunately, you can only get on board via two steps, which is why access with a heavier electric wheelchair is not possible. But it is manageable with a normal wheelchair, because the staff will gladly help with carrying it. The subsequent hiking trail to the Obersee is not really difficult.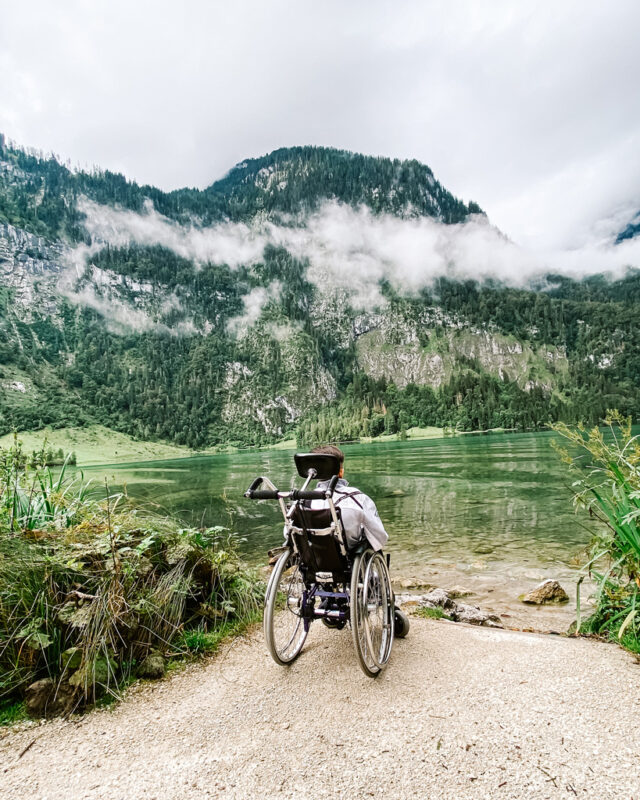 The Königssee and the picturesque mountain scenery
Externsteine in the Teutoburg Forest
Externsteine are sandstone rocks with a height of up to 40 meters, which were formed about 70 million years ago. It is actually unimaginable what has happened during such a long time in this place. Nowadays, the Externsteine are mainly a popular photo subject and a cool viewing platform from which you can see the entire nature reserve. The platform and also some hiking trails in the forest are unfortunately not suitable for wheelchair users. However, you won't encounter any problems on the way to the rocks and therefore everybody can take some unique pictures.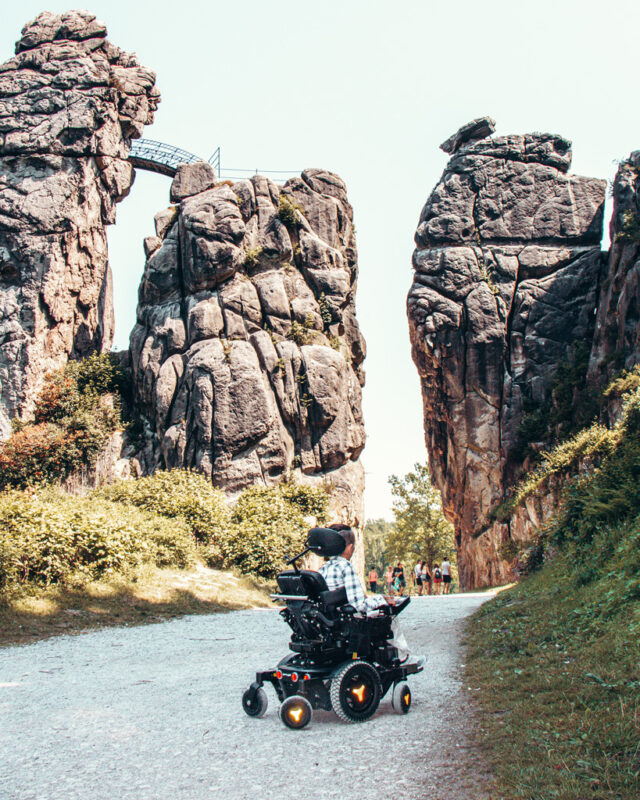 Maybe a little dinosaur once walked here too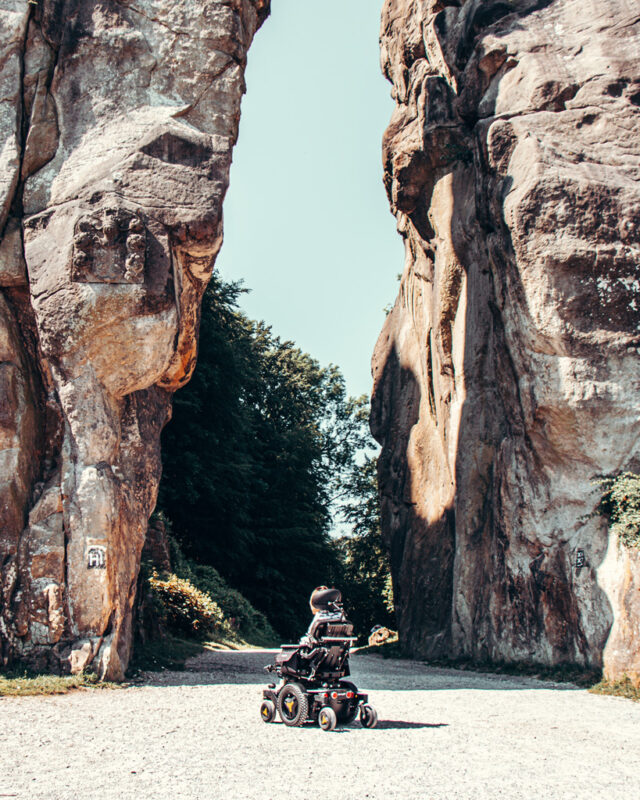 Want a cool Instagram shot in front of the rocks?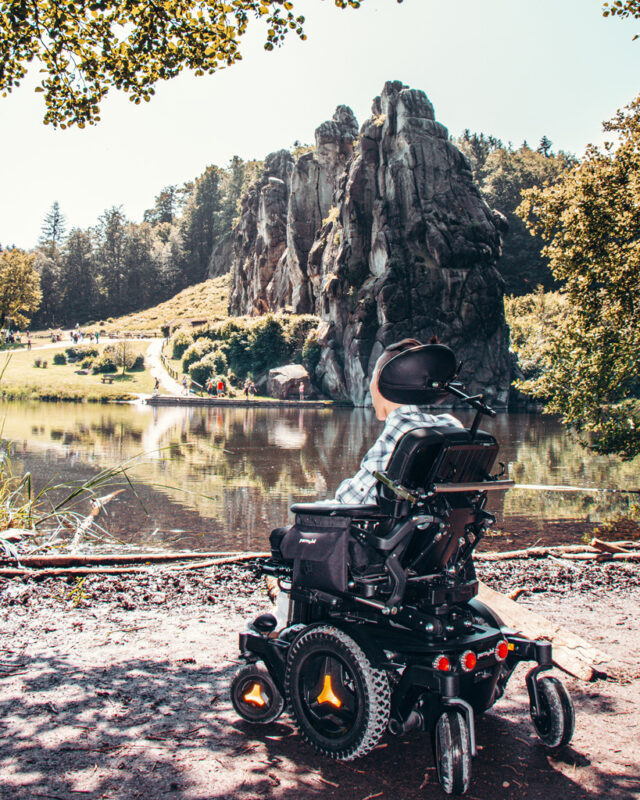 View on the Externsteine in the Teutoburg Forest
Drachenburg Castle and Eltz Castle
Germany is known for beautiful castles and palaces. But if you want to see something like this, you don't necessarily have to go to Bavaria to the world-famous Neuschwanstein Castle. The Drachenburg Castle in Königswinter, for example, is a good alternative with far fewer tourists. It also offers a magical scenery and exhibition rooms on a total of two floors, where you can admire many beautiful pieces of furniture and other original objects. I would also like to emphasize the accessibility, because you can easily visit almost everything with a wheelchair thanks to an elevator.
If you prefer to experience the time of knights, then Eltz Castle is a good destination for you. The now more than 850 years old castle looks like the typical fortress you see in knight movies and is therefore a really cool photo location. From the parking lot you can reach it either by a footpath or by a shuttle bus road. For wheelchair users, however, I definitely recommend the asphalted road, because the footpath is very stony. Unfortunately, the castle itself is not barrier-free, so you can only visit it from the outside. It's still worth a visit, especially because the area along the Moselle is very gorgeous and you can spend a lot of time there doing other activities.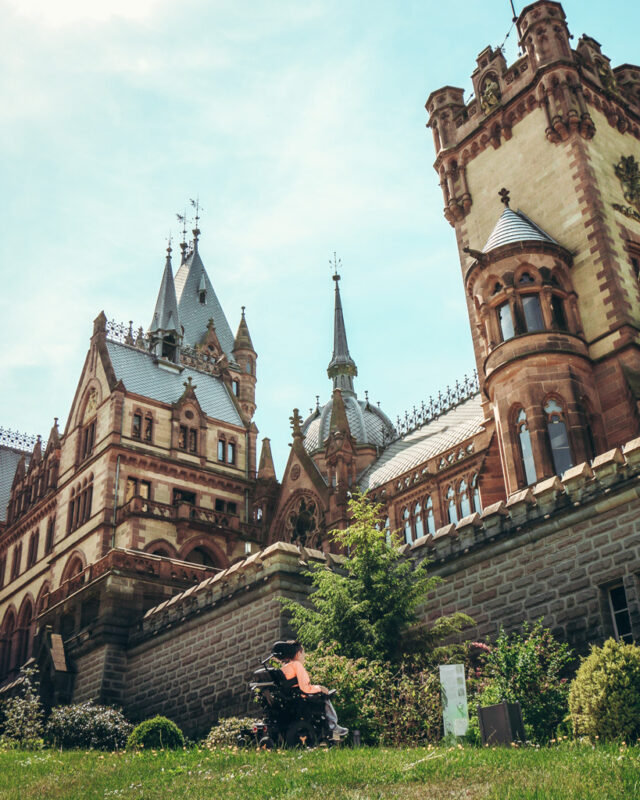 In search of a suitable property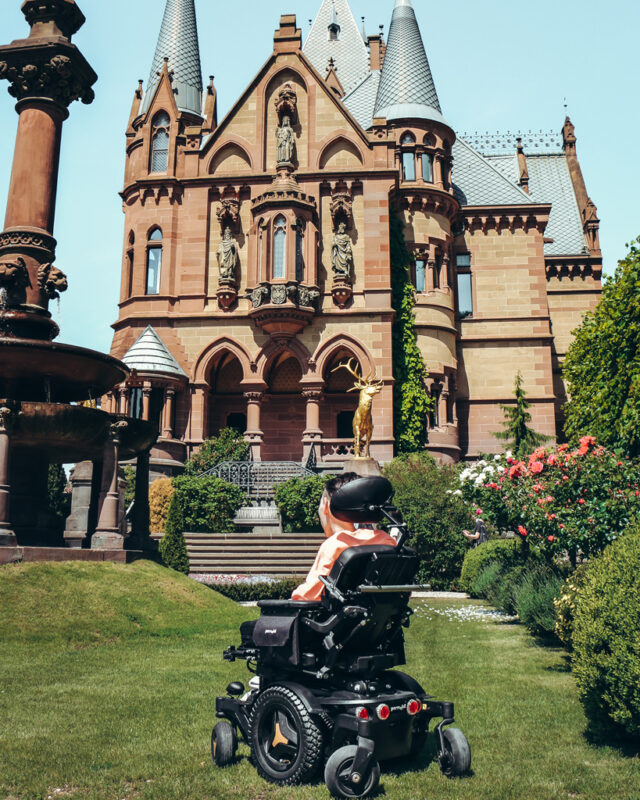 Drachenburg Castle is optimal for wheelchair users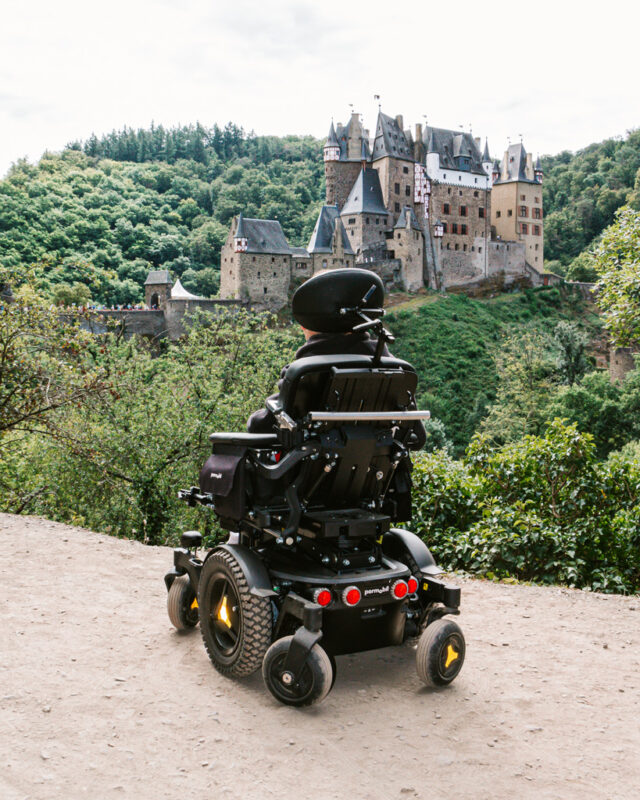 Eltz Castle: a fortress like in the movies